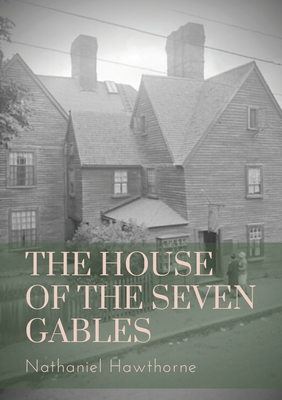 The House of the Seven Gables
a Gothic novel written beginning in mid-1850 by American author Nathaniel Hawthorne and published in April 1851 by Tic
Paperback

* Individual store prices may vary.
Other Editions of This Title:
Paperback (12/16/2017)
Paperback (2/23/2017)
Paperback (7/4/2016)
Paperback (1/5/2021)
Paperback (1/23/2013)
Paperback (9/18/2014)
Paperback (7/29/2012)
Paperback (8/27/2018)
Paperback (8/14/2020)
Paperback (5/11/2020)
Paperback (5/28/2015)
Paperback (4/7/2021)
Paperback (8/20/2017)
Paperback (12/1/2004)
Paperback (4/11/2015)
Paperback (10/25/2005)
Paperback (2/26/2018)
Paperback (7/1/2014)
Description
A gloomy New England mansion provides the setting for this classic exploration of ancestral guilt and its expiation through the love and goodwill of succeeding generations.Nathaniel Hawthorne drew inspiration for this story of an immorally obtained property from the role his forebears played in the 17th-century Salem witch trials. Built over an unquiet grave, the House of the Seven Gables carries a dying man's curse that blights the lives of its residents for over two centuries. Now Judge Jaffrey Pyncheon, an iron-hearted hypocrite and intellectual heir to the mansion's unscrupulous founder, is attempting to railroad a pair of his elderly relatives out of the house.
Only two young people stand in his way -- a visiting country cousin and an enigmatic boarder skilled in mesmerism.Hawthorne envisioned this family drama of evil, revenge, and resolution as a microcosm of Salem's own history as in idealistic society corrupted by greed and pride. His enduring view of the darkness at the heart of the national soul has made The House of the Seven Gables a landmark of American literature.
The House of the Seven Gables Nathaniel Hawthorne
The House of the Seven Gables: A Romance is a Gothic novel written beginning in mid-1850 by American author Nathaniel Hawthorne and published in April 1851 by Ticknor and Fields of Boston. The novel follows a New England family and their ancestral home. In the book, Hawthorne explores themes of guilt, retribution, and atonement, and colors the tale with suggestions of the supernatural and witchcraft. The setting for the book was inspired by the Turner-Ingersoll Mansion, a gabled house in Salem, Massachusetts, belonging to Hawthorne's cousin Susanna Ingersoll, as well as ancestors of Hawthorne who had played a part in the Salem Witch Trials of 1692.
The book was well received upon publication and later had a strong influence on the work of H. P. Lovecraft. The House of the Seven Gables has been adapted several times to film and television.
Les Prairies Numeriques, 9782382743782, 210pp.
Publication Date: November 27, 2020