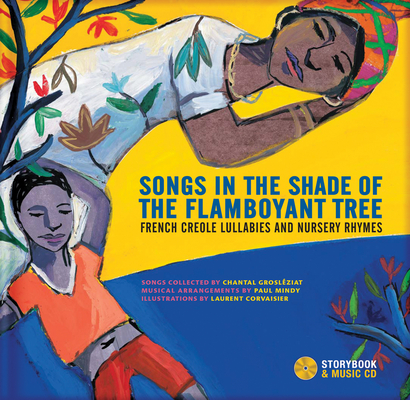 Songs in the Shade of the Flamboyant Tree: French Creole Lullabies and Nursery Rhymes (Hardcover)
French Creole Lullabies and Nursery Rhymes
Secret Mountain, 9782923163826, 52pp.
Publication Date: June 1, 2012
* Individual store prices may vary.
or
Not Currently Available for Direct Purchase
Description
Through colorful tunes and splashy illustrations reminiscent of the vibrant flamboyant tree, this collection celebrates life's passages and various island rituals in the tropical isles of Guadeloupe, Haiti, Martinique, and Reunion. Lyrics are reproduced in the original French Creole dialects and translated into English, followed by notes on the origin and cultural context of each song. The accompanying CD features 30 traditional songs recorded with indigenous acoustic instruments and exquisitely performed by women, men, and children. This uplifting, enchanting production captures the joie de vivre evoked in the original repertoire, making it an absolute delight to musical ears.
About the Author
Chantal Grosleziat is a musician and an educator who has spent more than 30 years exploring the effect of music on children. She is the author of several books, including "Songs from the Baobab," the series Bebes chasseurs des sons (Babies Are Sound Hunters), and the award-winning book and CD collection "Contes et""berceuses" (Stories and Lullabies). Paul Mindy is a percussionist, a singer, a composer, and an arranger who received the Georges Brassens Prize in recognition of his Brazilian music. He has accompanied noted musicians such as Richard Galliano, Carlo Rizzo, and Baden Powell. Laurent Corvaisier is a painter, an illustrator, and an instructor at the Ecole Nationale Superieur des Arts Decoratifs in France. He has illustrated more than 100 children's books, including "Gollo and the Lyon," which have been translated into several languages.
Advertisement