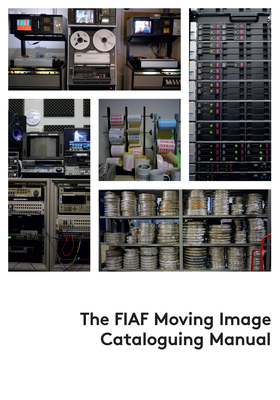 The FIAF Moving Image Cataloguing Manual (Paperback)
Fiaf, 9782960029635, 276pp.
Publication Date: October 17, 2016
* Individual store prices may vary.
Description
The FIAF Moving Image Cataloguing Manual is the result of many years of labor and collaboration with numerous professionals in the moving image field. It addresses the changes in information technology that we've seen over the past two decades, and aligns with modern cataloguing and metadata standards and concepts such as FRBR (Functional Requirements for Bibliographic Records), EN 15907, and RDA (Resource Description and Access). The manual is designed to be compatible with a variety of data structures, and provides charts, decision trees, examples, and other tools to help experts and non-experts alike in performing real-world cataloguing of moving image collections.
About the Author
Natasha Fairbairn has worked at the British Film Institute (BFI) since 1986 as Library Assistant, Indexer, Senior Cataloguer in the BFI National Archive, and then Documentation Editor. Since 2011, she has worked as an Information Specialist--part of the Collections & Information team concerned with the data, standards, and data architecture of the BFI's Collections Information Database (CID). She also carries out training on in-house data systems and cataloguing standards. She has a BA (Hons) degree in English Language from Newcastle University, and Postgraduate Diploma in Library and Information Studies. Maria Assunta Pimpinelli is a film archivist at the Centro Sperimentale di Cinematografia (CSC) - Cineteca Nazionale in Rome. After her studies in Classical Archaeology, she turned her interests to film archiving and moving image heritage. Her activities involve film cataloguing, documentation, and restoration, with a particular emphasis on archival moving images. In this framework, she has been responsible for several restoration projects and involved in a multi-year survey on the nitrate film collection of the CSC- Cineteca Nazionale, including film identification and development of preservation strategies. She is a member of the FIAF Cataloguing and Documentation Commission. Thelma Ross has a master's degree in Library and Information Science from Kent State University. She has been employed as a moving image cataloguer for over a decade, including for the Academy Film Archive and, currently, for the Department of Film at The Museum of Modern Art. She gives talks and presentations on moving image cataloging and metadata standards, and teaches workshops and university classes. She serves as the Head of the FIAF Cataloguing and Documentation Commission.