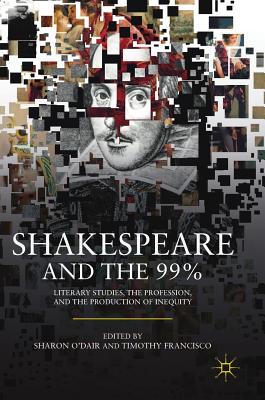 Shakespeare and the 99% (Hardcover)
Literary Studies, the Profession, and the Production of Inequity
Palgrave MacMillan, 9783030038823, 285pp.
Publication Date: February 21, 2019
* Individual store prices may vary.
Description
Through the discursive political lenses of Occupy Wall Street and the 99%, this volume of essays examines the study of Shakespeare and of literature more generally in today's climate of educational and professional uncertainty. Acknowledging the problematic relationship of higher education to the production of inequity and hierarchy in our society, essays in this book examine the profession, our pedagogy, and our scholarship in an effort to direct Shakespeare studies, literary studies, and higher education itself toward greater equity for students and professors. Covering a range of topics from diverse positions and perspectives, these essays confront and question foundational assumptions about higher education, and hence society, including intellectual merit and institutional status. These essays comprise a timely conversation critical for understanding our profession in "post-Occupy" America.
About the Author
Sharon O'Dair is Professor of English, Emerita at the University of Alabama, USA. She is author of Class, Critics, and Shakespeare: Bottom Lines on the Culture Wars (2000). Timothy Francisco is Professor of English and Director of The Center for Working Class Studies at Youngstown State University, USA.