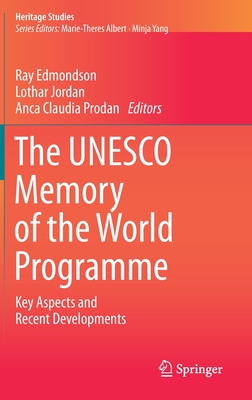 The UNESCO Memory of the World Programme
Key Aspects and Recent Developments (Heritage Studies)
Hardcover

* Individual store prices may vary.
Other Editions of This Title:
Paperback (11/20/2020)
Description
The volume "The UNESCO Memory of the World Programme: Key Aspects and Recent Developments" responds to the growing interest in the scientific study of the Memory of the World Programme (MoW) and its core concept of documentary heritage, which has received little attention from scholarship so far. This sixth publication in the Heritage Studies Series provides a first collection of differing approaches (including reflected reports, essays, research contributions, and theoretical reflections) for the study of the MoW Programme, offering a basis for follow-up activities. The volume, edited by Ray Edmondson, Lothar Jordan and Anca Claudia Prodan, brings together 21 scholars from around the globe to present aspects deemed crucial for understanding MoW, its development, relevance and potential. The aim is to encourage academic research on MoW and to enhance the understanding of its potential and place within Heritage Studies and beyond.
Springer, 9783030184407, 340pp.
Publication Date: November 20, 2019
About the Author
Ray Edmondson is an international consultant, teacher and writer on audiovisual archiving and documentary heritage issues. He is Curator Emeritus of the National Film and Sound Archive of Australia, and his 2012 doctoral thesis analysed its history. He has undertaken missions for UNESCO, and been involved in the Memory of the World Program since 1996 in various committee roles. His major writings include Audiovisual Archiving: Philosophy and Principles (UNESCO, 3rd edition 2016) and have been translated into a dozen languages. Lothar Jordan is a professor of literature. He worked in universities and in a literature museum. After his retirement in 2018 he continues as an academic author, e.g. working on the history of the German terms of "press freedom". Lothar Jordan was engaged in ICOM, and is active in the Memory of the World programme since 2009, e.g. as vice chair of its IAC (2013-2017), and currently as chair of its Sub-Committee on Education and Research (SCEaR). Anca Claudia Prodan is an early career researcher, with degrees in Anthropology, Philosophy, World Heritage Studies, and Heritage Studies. Since 2010, she has focused her research on the Memory of the World Programme. She is a Corresponding Member of the Sub-Committee on Education and Research (SCEaR) of the UNESCO Memory of the World (MoW) Programme, a member of the Editorial Advisory Board of the Heritage Studies Series, and a member of the International Association of World Heritage Professionals e.V.