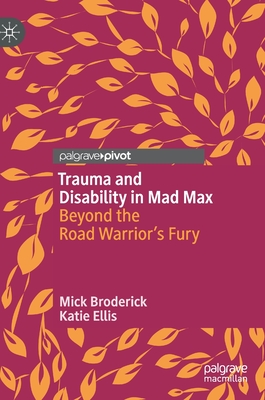 Trauma and Disability in Mad Max
Beyond the Road Warrior's Fury
Hardcover

* Individual store prices may vary.
Description
This book explores the inter-relationship of disability and trauma in the Mad Max films (1979-2015). George Miller's long-running series is replete with narratives and imagery of trauma, both physical and emotional, along with major and minor characters who are prominently disabled. The Mad Max movies foreground representations of the body - in devastating injury and its lasting effects - and in the broader social and historical contexts of trauma, disability, gender and myth.
Over the franchise's four-decade span significant social and cultural change has occurred globally. Many of the images of disability and trauma central to Max's post-apocalyptic wasteland can be seen to represent these societal shifts, incorporating both decline and rejuvenation. These shifts include concerns with social, economic and political disintegration under late capitalism, projections of survival after nuclear war, and the impact of anthropogenic climate change.
Drawing on screen production processes, textual analysis and reception studies this book interrogates the role of these representations of disability, trauma, gender and myth to offer an in-depth cultural analysis of the social critiques evident within the fantasies of Mad Max.

Palgrave Pivot, 9783030194383, 109pp.
Publication Date: September 12, 2019
About the Author
Mick Broderick is Associate Professor of Media Analysis at Murdoch University, Australia. His major publications include The Kubrick Legacy (2019), Reconstructing Strangelove: inside Stanley Kubrick's 'nightmare comedy'(2017), editions of the reference work Nuclear Movies (1988, 1991) and as editor or co-editor, Hibakusha Cinema(1996, 1999, 2014), Interrogating Trauma (2010) and Trauma, Media, Art: New Perspectives (2011).Katie Ellis is Associate Professor in Internet Studies and Director of the Centre for Culture and Technology at Curtin University, Australia. Her research is located at the intersection of media access and representation. She is the author or editor of 20 books on the topic of disability, the media and popular culture including most recentlyDisability and Digital Television Cultures (2019).