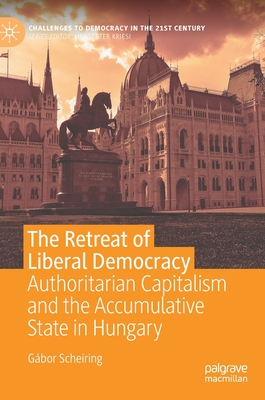 The Retreat of Liberal Democracy
Authoritarian Capitalism and the Accumulative State in Hungary (Challenges to Democracy in the 21st Century)
Hardcover

* Individual store prices may vary.
Description
This book is the product of three years of empirical research, four years in politics, and a lifetime in a country experiencing three different regimes. Transcending disciplinary boundaries, it provides a fresh answer to a simple yet profound question: why has liberal democracy retreated?
Scheiring argues that Hungary's new hybrid authoritarian regime emerged as a political response to the tensions of globalisation. He demonstrates how Viktor Orb n's Fidesz exploited the rising nationalism among the working-class casualties of deindustrialisation and the national bourgeoisie to consolidate illiberal hegemony.

As the world faces a new wave of autocratisation, Hungary's lessons become relevant across the globe, and this book represents a significant contribution to understanding challenges to democracy. This work will be useful to students and researchers across political sociology, political science, economics and social anthropology, as well democracy advocates.
Palgrave MacMillan, 9783030487515, 367pp.
Publication Date: August 27, 2020
About the Author
Gabor Scheiring is a Marie Curie Fellow at Bocconi University, Milan. His research focuses on the political economy of health, the human price of globalisation and the role of class in illiberalism. He served as a member of the Hungarian Parliament between 2010-2014.