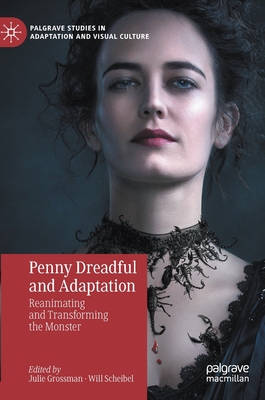 Penny Dreadful and Adaptation
Reanimating and Transforming the Monster (Palgrave Studies in Adaptation and Visual Culture)
Hardcover

* Individual store prices may vary.
Description
1. Introduction.- 2. The Medium Is the Model.- 3. The Adaptive Marketing of Penny Dreadful: Listening to the Dreadfuls.- 4. Penny Dreadful and Frankensteinian Collection: Museums, Anthologies, and Other Monstrous Media from Shelley to Showtime.- 5. In the House of the Night Creatures: Penny Dreadful's Dracula.- 6. Vampirism, Blood, and Memory in Penny Dreadful and Only Lovers Left Alive.- 7. 'The Dead Place': Cosmopolitan Gothic in Penny Dreadful's London.- 8. Adapting the Universal Classic Monsters in Penny Dreadful: An Uncanny Resurrection.- 9. Penny Dreadful and the Stage: Lessons in Horror and Heritage.- 10. Ethan Chandler, Penny Dreadful, and the Dime Novel; or, Dancing with American Werewolves in London.- 11. Dreadful Noir, Adaptation, and City of Angels: 'Monsters, All, Are We Not?'.- 12. Penny Dreadful's Palimpsestuous Bride of Frankenstein.- 13. Predators Far and Near: The Sadean Gothic in Penny Dreadful.- 14. 'All Those Sacred Midnight Things': Queer Authorship, Veiled Desire, and Divine Transgression in Penny Dreadful.- 15. Borderland Identities in Penny Dreadful: City of Angels: Urban Planning and Its Impact on Chicano Communities.
Palgrave MacMillan, 9783031121791, 282pp.
Publication Date: January 31, 2023
About the Author
Julie Grossman is a professor of English and Communication and Film Studies at Le Moyne College in Syracuse, NY, USA. Her monographs include Literature, Film, and Their Hideous Progeny (2015), Ida Lupino, Director (with Therese Grisham, 2017), Twin Peaks (with Will Scheibel, 2020), and The Femme Fatale (2020). She is co-editor (with R. Barton Palmer) of the essay collection Adaptation in Visual Culture (2017) and (with Marc C. Conner and R. Barton Palmer) Screening Contemporary Irish Fiction and Drama (2022). Will Scheibel is an associate professor of English at Syracuse University, USA, where he teaches film and screen studies. He is the author of Gene Tierney: Star of Hollywood's Home Front (2022) and, with Julie Grossman, co-author of Twin Peaks (2020).