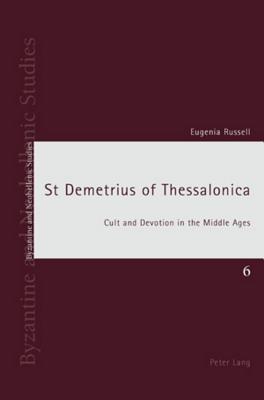 St Demetrius of Thessalonica
Cult and Devotion in the Middle Ages (Byzantine and Neohellenic Studies #6)
Paperback

* Individual store prices may vary.
Description
The cult of St Demetrius is of considerable age but it peaked with the emergence of his city, Thessalonica, as a prominent political and cultural centre in late Byzantium. This book examines the intensification of his popularity and veneration in the late Middle Ages and his impact on contemporary thought and ritual. The encomia written in the saint's honour are significant historical and literary monuments and in their suggestiveness and beauty they are on a level with many better-known works in medieval Greek. Indeed, the encomia have added historical interest because of the prominence of those who wrote them. The likes of Nicholas Kavasilas, Gregory Palamas, Constantine Harmenopoulos and Symeon of Thessalonica were the elite of late Byzantium in intellect and personal influence, while Nikephoros Gregoras was perhaps the finest of Byzantine minds. With their clear links to individual authors, the encomia on St Demetrius present opportunities to the historian and the literary critic, which are fully explored in this book, the first to give them sustained scholarly attention.
Peter Lang Gmbh, Internationaler Verlag Der W, 9783034301817, 213pp.
Publication Date: June 10, 2010
About the Author
Eugenia Russell is Lecturer in History at St Mary's University, Twickenham. She is the author of Literature and Culture in Late Byzantine Thessalonica (2013, paperback 2014), 'Two Greek excerpts by Johannes Cuno (1463-1513) in London Arundel 550', Renaissance Studies 24 (2010), 'Donors, texts and images. Visualisation of the hagiographical cycle of St Panteleimon' (with Teodora Burnand), Byzantion 81 (2011) and the editor of Spirituality in Late Byzantium (2009).
or
Not Currently Available for Direct Purchase