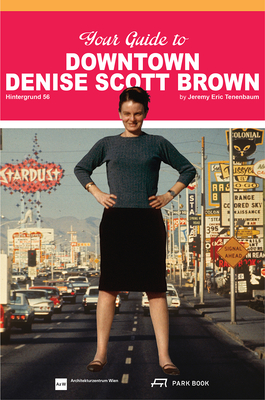 Your Guide to Downtown Denise Scott Brown (Paperback)
Hintergrund 56
Park Books, 9783038601272, 173pp.
Publication Date: March 15, 2019
* Individual store prices may vary.
Description
Denise Scott Brown has shaped the course of contemporary architecture since the 1960s. She is particularly well known for Learning from Las Vegas, an enormously successful research project with her companion in life and work, Robert Venturi, and Steven Izenour, which challenged the way many architects saw the city. Widely cited and sometimes misunderstood, Scott Brown's insistence that we cast a critical eye on modernism ignorant of context, history, and joint creativity remains impactful today. As a new generation of architects and urban planners face a new set of environments and challenges, the time has never been more ripe to rediscover her undogmatic formal language and careful urban interventions.

The first book to focus exclusively on Denise Scott Brown, Your Guide to Downtown Denise Scott Brown Brown reaches beyond that foundational part of her work. It offers an entirely new way to view her achievements more broadly as an architect, urban planner, theorist, and educator. The book takes readers through her childhood in 1930s South Africa and her education in 1950s England, to her well-known work in photography, her writings and studies, and her work as an architect and urban planner on four continents. Lavishly illustrated, the book features a wealth of previously unpublished material, most of it in full color.
 
About the Author
Jeremy Eric Tenenbaum is a writer, visual artist, and graphic designer who has worked for both Venturi, Scott Brown and Associates and its successor, VSBA Architects and Planners for more than two decades. Angelika Fitz is director and Katharina Ritter is a program coordinator at Architekturzentrum Wien, the national architecture museum of Austria which showcases twentieth-and twenty-first-century architecture and urban design.