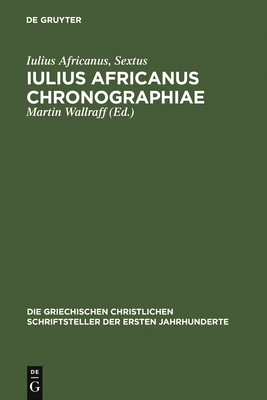 Iulius Africanus Chronographiae (Die Griechischen Christlichen Schriftsteller Der Ersten Jahr #15) (Hardcover)
de Gruyter, 9783110194937, 350pp.
Publication Date: September 17, 2007
* Individual store prices may vary.
Description
Iulius Africanus has rightly been called the "Father of Christian Chronography". His world chronicle is one of the few works of Christian literature pioneering a new genre. Late Antiquity and the Middle Ages mainly articulated their reflection on history in the form of the world chronicle. The work has not been preserved in its entirety; the extant fragments have to be laboriously pieced together from the works of later authors. To date, there has not been a critical edition of this material, and the edition in use today dates back nearly 200 years (J.M. Routh 1814). This new edition in the GCS series closes an old gap in the programme of this series - and at the same time marks a new beginning, because this is the first edition ever in this series to be published with an English translation. The edition establishes a completely new foundation for our knowledge of Early Christian historical thinking, and in addition provides an important component in our understanding of an important epoch, the "Imperial Crisis" of the 3rd century, in which the new world of Late Antiquity began to develop out of the Hellenic-Roman heritage.