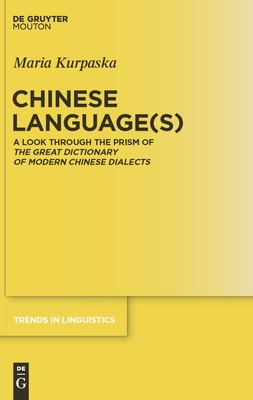 Chinese Language(s)
A Look Through the Prism of the Great Dictionary of Modern Chinese Dialects (Trends in Linguistics. Studies and Monographs [Tilsm] #215)
Hardcover

* Individual store prices may vary.
Description
The major aim of the book is to trace the current structuring of the Chinese language(s) on the ground of Chinese linguistics. The research presented is based on the newest and most renowned sources, namely The Great Dictionary of Modern Chinese Dialects, and the Language Atlas of China.
The author discusses the role The Great Dictionary plays in analyzing the spectrum of linguistic differentiation in China and gives a detailed account of the kind of information the dictionary provides. As background, she sketches the development and current state of Chinese dialectology and dialect research. One of the author's aims is to show respect for the grand achievement the Dictionary undoubtedly is, but also to emphasize a critical distance to some of the views presented in it.
Apart from being an analysis of this particular Dictionary, the book presents data about the state of modern Chinese dialectology. It provides information about different classifications of the dialects and explains on what basis the classifications are made. Looking at Chinese dialectology from a Western point of view, the author aims to understand and present the Chinese perspective.
The book fills an important gap in the field of Western sinology. So far, despite lively discussions concerning the status of the varieties of Chinese and their taxonomy, full-scale studies on Chinese dialects have been almost non-existent in the Western World.
Walter de Gruyter, 9783110219142, 296pp.
Publication Date: May 19, 2010
About the Author
Maria Kurpaska, Adam Mickiewicz University Poznan, Poland.