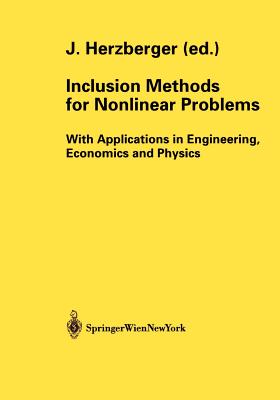 Inclusion Methods for Nonlinear Problems (Paperback)
With Applications in Engineering, Economics and Physics (Computing Supplementa #16)
Springer, 9783211838525, 244pp.
Publication Date: December 10, 2002
* Individual store prices may vary.
Description
This workshop was organized with the support of GAMM, the International Association of Applied Mathematics and Mechanics, on the occasion of J. Herzberger's 60th birthday. GAMM is thankful to him for all the time and work he spent in the preparation and holding of the meeting. The talks presented during the workshop and the papers published in this volume are part of the field of Verification Numerics. The important subject is fostered by GAMM already since a number of years, especially also by the GAMM- FachausschuB (special interest group) "Rechnerarithmetik und Wissenschaft- liches Rechnen". GiHz Alefeld Karlsruhe, Dezember 2001 (President of GAMM) Preface At the end of the year 2000, about 23 scientists from many countries gathered in the beautiful city of Munich on the occasion of the International GAMM- Workshop on "Inclusion Methods for Nonlinear Problems with Applications in Engineering, Economics and Physics" from December 15 to 18. The purpose of this meeting was to bring together representatives of research groups from Austria, Bulgaria, China, Croatia, Germany, Japan, Russia, Ukraine and Yugoslavia who in a wider sense work in the field of calculating numerical solutions with error-bounds. Most of those participants have already known each other from earlier occasions or closely cooperated in the past. Representatives from three Academies of Sciences were among the speakers of this conference: from the Bulgarian Academy, the Russian Academy and the Ukrainian Academy of Sciences.