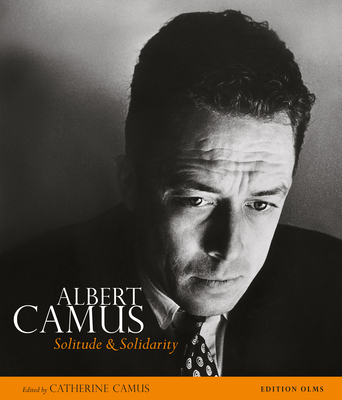 Albert Camus (Hardcover)
Solitude and Solidarity
Edition Olms, 9783283011888, 224pp.
Publication Date: April 1, 2012
* Individual store prices may vary.
Description
A biography in text and pictures of the highly influential, iconic writer, from his daughter
"My children and grandchildren never got to know him. I wanted to go through all the photos for their sake. To rediscover his laugh, his lack of pretension, his generosity, to meet this highly observant, warm-hearted person once more, the man who steered me along the path of life. To show, as Séverine Gaspari once wrote, that Albert Camus was in essence a 'person among people, who in the midst of them all, strove to become genuine.'"  —Catherine Camus
Using selected texts, photographs, and previously unpublished documents, Catherine Camus skillfully and easily takes readers through the fascinating life and work of her father, Albert Camus, who, in his defense of the individual, also saw himself as the voice of the downtrodden. The winner of the Nobel prize for literature, Albert Camus died suddenly and tragically in 1960. He was only 46. There are rumors to this day that the Russian KGB was behind the car crash. Writer, journalist, philosopher, playwright, and producer, he was a shining defender of freedom, whose art and person were dedicated to serving the dignity in humanity. In his tireless struggle against all forms of repression, he was a ceaseless critic of humanity's hubris; the same struggle can still be felt today.
About the Author
Catherine Camus is the executor of her father's estate.
Praise For Albert Camus: Solitude and Solidarity…
"Humanity's friend, humanity's critic: 50 years after his death, Albert Camus's work is more relevant than ever."  —Tagesspiegel, Berlin
"Above all, what you can learn from Camus is attitude: his putting up with depressing times, his resistance to exploitation, destruction and hatred over a long time. This attitude is much more important today, bearing in mind the catastrophic state of many areas such as the economy, the arms industry and the environemnt, than it was in Camus' time. . . . Camus could be helpful in times when what matters is not to give up, despite a future that seems hopeless; not to resign, but to continue to resist."  —Günter Grass, Nobel Prize-winning author
"The morning after a great historical crisis, you feel as sad and sick as after a heavy night. But there is no aspirin for historical hangovers."  —Albert Camus
"This fascinating and lavishly illustrated album of Camus' photographs, manuscripts, letters, and documents (some of them unpublished), edited by his daughter and literary executor, will prove precious to his readers."—Booklist
"[A] handsome coffee-table book"  —Library Journal
"A remarkable effort at recapturing—or, for many readers, simply capturing for the first time—a man whose life and work matter as greatly today as they did in his own era."  —Los Angeles Review of Books 
 "A riveting tome"  —Our Man in Boston blog
or
Not Currently Available for Direct Purchase