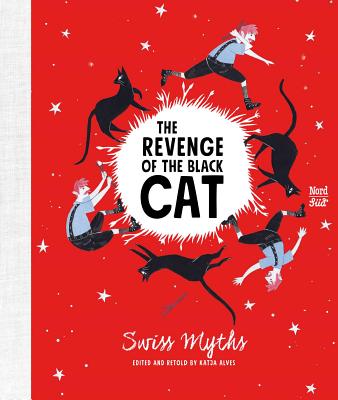 The Revenge of the Black Cat (Hardcover)
Swiss Myths
NorthSouth Books, 9783314104886, 136pp.
Publication Date: October 1, 2019
* Individual store prices may vary.
Description
In this collection, Katja Alves retells some traditional Swiss myths—exciting, funny, and sometimes gruesome tales from all four regions of the country.

The exquisite illustrations were created by nineteen young artists who hail from Switzerland.

Illustrations by: Anda, Carole Aufranc, Silvan Borer, Paloma Canonica, Anna Deér, Lucie Fiore, Gregor Forster, Lea Gross, Sara Guerra Rusconi, Mira Gysi, Rina Jost, Patricia Keller, Rahel Messerli, Jakob Näf, Camille Perrochet, Eliane Schädler, Pia Valär, Adam Vogt, and Anna Weber.
About the Author
Katja Alves was born in Coimbra, Portugal, and grew up in Switzerland. She has worked in many different fields—as a bookseller, journalist, radio editor etc.—but today she spends most of her time editing children's books and writing children's novels and radio plays. She lives with her family in Zürich.
Praise For The Revenge of the Black Cat: Swiss Myths …
Nineteen different illustrators were tasked with illustrating the tales, and their aesthetic sensibilities and approaches are as varied as the stories themselves...the book maintains a satisfying and attractive cohesiveness. A welcome addition to the folklore bookshelf.
— Kirkus Reviews

Drawn from all four language regions of Switzerland and rooted in the local landscapes, the stories are related in a plainspoken style…morals (be kind to animals; "The Revenge of the Black Cat"), cautionary tales (don't stare at the neighbors; "The Spalentier"), and legends about particular places ("The Devil's Bridge") mix to offer a winsome introduction to classic Swiss stories.
— Publishers Weekly