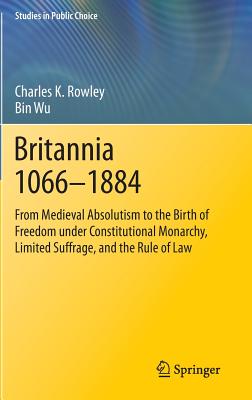 Britannia 1066-1884
From Medieval Absolutism to the Birth of Freedom Under Constitutional Monarchy, Limited Suffrage, and the Rule of Law (Studies in Public Choice #30)
Hardcover

* Individual store prices may vary.
Other Editions of This Title:
Paperback (9/3/2016)
Description
​The Modern Tools for Analytical History: Economics, Political Science, Public Choice, Philosophy, and the Law.- The Evolution of Absolutism in Medieval England: 1066-1485.- The Tudor Dynasty: Perfecting Absolutism in the Era of the Renaissance and the Reformation, 1485-1603.- The Stuart and the Cromwell Doom: The Hinge of Fate for Absolutist Autocrats, 1603-1688.- The Seventeenth Century Philosophical Divide: Unity versus Liberty.- The Demise of the Divine Right of Kings, the Decline of Monarchic Power, and the Rise of Parliament, 1689-1775.- Hugo Grotius, John Locke and Cato's Letters: Evolution of Philosophy from the Glorious Revolution to the American Revolution.- Freedoms Flourish under Constitutional Monarchy, Limited Suffrage, Laissez-Faire Capitalism, Free Trade, and the Rule of Law, 1776-1884.- The Zenith of Classical Liberal Philosophy in Britannia: From the Scottish Enlightenment to John Stuart Mill.​
Springer, 9783319046839, 165pp.
Publication Date: May 14, 2014