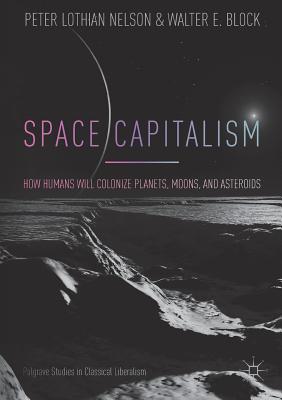 Space Capitalism (Paperback)
How Humans Will Colonize Planets, Moons, and Asteroids (Palgrave Studies in Classical Liberalism)
Palgrave MacMillan, 9783319746500, 317pp.
Publication Date: July 23, 2018
* Individual store prices may vary.
About the Author
Peter Lothian Nelson has masters degrees in engineering and divinity. He has over 40 years of experience in civil engineering and forensics, and is the former president of PL Nelson Engineering Inc, USA. Walter E. Block is Harold E. Wirth Endowed Chair and Professor of Economics, College of Business, Loyola University New Orleans, and senior fellow at the Mises Institute. He earned his PhD in economics at Columbia University in 1972. He has taught at Rutgers, SUNY Stony Brook, Baruch CUNY, Holy Cross and the University of Central Arkansas. He is the author of more than 500 refereed articles in professional journals, two dozen books, and thousands of op eds. He lectures widely on college campuses, delivers seminars around the world and appears regularly on television and radio shows. He is the Schlarbaum Laureate, Mises Institute, 2011; and has won the Loyola University Research Award (2005, 2008) and the Mises Institute's Rothbard Medal of Freedom, 2005; and the Dux Academicus award, Loyola University, 2007.