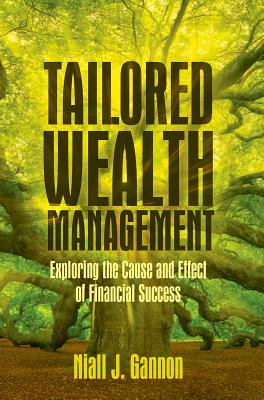 Tailored Wealth Management
Exploring the Cause and Effect of Financial Success
Hardcover

* Individual store prices may vary.
Description
Calculates the after-tax return of the S&P 500 index since inceptionProves, with 20 year rolling portfolios going back to the 1957 inception of the S&P 500 index, that forward looking returns display a level of predictability using data points available to investors at the beginning of each periodCompares index fund investors, high net worth investors, college endowments, and the Forbes 400Written by renown name in wealth management: a top 100 Financial Advisor as cited by Barron's, Portfolio Manager of the Year as cited by Portfolio Management Institute and frequent guest on CNBC.
Palgrave MacMillan, 9783319997797, 191pp.
Publication Date: January 21, 2019
About the Author
Niall is a Private Wealth Advisor to ultra-high-net-worth investors and lead member of the Gannon Group. He has been recognized as one of the nation's top 100 Financial Advisors by Barron's and Registered Rep. He is author of Investing Strategies for the High Net-Worth Investor: Maximize Returns on Taxable Portfolios (McGraw-Hill, 2009). In 2018 he published The Efficient Valuation Hypothesis in Seeking Alpha. Niall has appeared on CNBC & National Public Radio and been quoted in the New York Times, Wall Street Journal, and Barron's. His research has been featured or quoted in ten books and academic articles by other authors. Niall has addressed the CFA Institute, Institute for Private Investors, Portfolio Management Institute, Family Office Exchange and Tiger 21. Niall is affiliated through various roles with the Institute for Private Investors, CFA(R) Institute Committee for Investment Policy, The Papal Foundation, Roman Catholic Foundation and Cor Jesu Academy. He co-founded the Rev. James Kisero Children's clinic in the village of Bolo, Kenya. He is a past board member of Junior Achievement, Connections to Success, St. Louis Variety, St. Louis Irish Arts and the Annual Catholic Appeal. Niall received the Silver Congressional Award, President's Volunteer Service Award, alumnus of the year at The Citadel School of Business, PMI Portfolio Manager of the Year Award, and is a member of The Order of St. Louis the King. He is a graduate of The Citadel and served in the US Army Reserve as an M1-Abrams tank platoon commander.
or
Not Currently Available for Direct Purchase