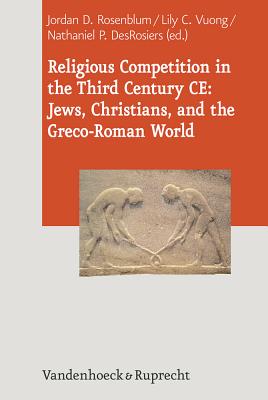 Religious Competition in the Third Century Ce (Hardcover)
Jews, Christians, and the Greco-Roman World (Journal of Ancient Judaism: Supplements #15)
Vandenhoeck & Ruprecht, 9783525550687, 257pp.
Publication Date: October 1, 2014
* Individual store prices may vary.
Description
The essays in this work examine issues related to authority, identity, or change in religious and philosophical traditions of the third century CE. This century is of particular interest because of the political and cultural developments and conflicts that occurred during this period, which in turn drastically changed the social and religious landscape of the Roman world. The specific focus of this volume edited by Jordan D. Rosenblum, Lily Vuong, and Nathaniel DesRosiers is to explore these major creative movements and to examine their strategies for developing and designating orthodoxies and orthopraxies. Contributors were encouraged to analyze or construct the intersections between parallel religious and philosophical communities of the third century, including points of contact either between or among Jews, Christians, pagans, and philosophers. As a result, the discussions of the material contained within this volume are both comparative in nature and interdisciplinary in approach, engaging participants who work in the fields of Religious Studies, Philosophy, History and Archaeology. The overall goal was to explore dialogues between individuals or groups that illuminate the mutual competition and influence that was extant among them, and to put forth a general methodological framework for the study of these ancient dialogues. These religious and philosophical dialogues are not only of great interest and import in their own right, but they also can help us to understand how later cultural and religious developments unfolded.
or
Not Currently Available for Direct Purchase