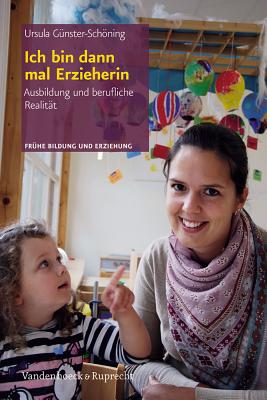 Ich Bin Dann Mal Erzieherin (Paperback)
Ausbildung Und Berufliche Realitat (Fruhe Bildung Und Erziehung)
Vandenhoeck and Ruprecht, 9783525701355, 171pp.
Publication Date: April 24, 2012
* Individual store prices may vary.
Description
English summary: "Everyone can take care of kids" - that is what many people think. But is that really the case? Young people entering the job market are motivated and full of vigor, but sometimes are brought down to earth by the realities of the "jungle." Every kindergarten has its own concept, every parent his or her own idea of how to best take care of a child. And thus meet the two very different worlds and pedagogic goals - and in the middle stands the young caretaker. How do I find my own way through, how do I define my own goals? What type of caretaker am I and what is my image of a well-cared-for child? How do I master the everyday problems and find my own style? How to set limits? How to help children learn and foster their resources? What are the basic needs of modern children and how can I do the right thing when they are afraid or aggressive and riot, gripe or hit? This volume offers a multitude of answers to these and other questions, well-founded basic knowledge about working in a pedagogical setting and many guideposts for obtaining self-realization in one's job. German description: "Erziehen kann jeder" - denkt ein Grossteil der Gesellschaft. Aber ist das auch so? Berufseinsteiger strotzen am Anfang vor Motivation und Euphorie, finden sich dann aber schnell in einem "Erziehungsdschungel" wieder. Jede Kita hat ihr eigenes Konzept, jedes Elternteil seinen eigenen Erziehungsstil und so prallen die unterschiedlichsten Erziehungsziele aufeinander und mittendrin die junge Erzieherin. Wie finde ich da meinen eigenen Weg, meine eigenen Ziele? Was macht mich aus und wie ist mein Bild vom Kind? Wie meistere ich den Erziehungsalltag und finde zu meinem eigenen Stil? Wie setze ich im Alltag Grenzen? Wie gelingt es Lernprozesse in Gang zu setzen und kindliche Bildung zu fordern? Welche Grundbedurfnisse haben Kinder von heute und wie verhalte ich mich richtig, wenn Kinder Angste entwickeln oder besonders aggressiv sind, wuten, motzen, schlagen? Vielfaltige Antworten, fachlich fundiertes Grundwissen und zahlreiche Orientierungshilfen fur die Selbstfindung im Erzieherinnenberuf erhalten Sie hier.
or
Not Currently Available for Direct Purchase