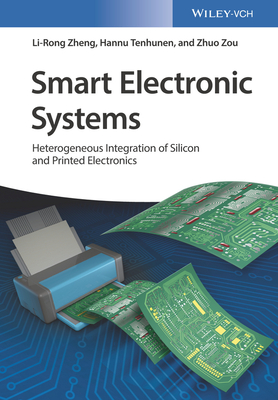 Smart Electronic Systems (Hardcover)
Heterogeneous Integration of Silicon and Printed Electronics
Wiley-Vch, 9783527338955, 296pp.
Publication Date: January 4, 2019
* Individual store prices may vary.
Description
Unique in focusing on both organic and inorganic materials from a system point of view, this text offers a complete overview of printed electronics integrated with classical silicon electronics.
Following an introduction to the topic, the book discusses the materials and processes required for printed electronics, covering conducting, semiconducting and insulating materials, as well as various substrates, such as paper and plastics. Subsequent chapters describe the various building blocks for printed electronics, while the final part describes the resulting novel applications and technologies, including wearable electronics, RFID tags and flexible circuit boards.
Suitable for a broad target group, both industrial and academic, ranging from mechanical engineers to ink developers, and from chemists to engineers.
About the Author
Li-Rong Zheng is professor in Media Electronics at the Swedish Royal Institute of Technology (KTH) in Stockholm, Sweden, as well as founder and director of iPack VINN Excellence Center. Since 2010, he holds the position as a distinguished professor and director of ICT School at the Fudan University in Shanghai, China. His research interests include electronic circuits, wireless sensors, systems for ambient intelligence and the internet-of-things. In 2001, he received his Ph.D. degree in electronic system design from the Swedish Royal Institute of Technology (KTH) in Stockholm, Sweden. He has authored more than 400 scientific publications. He is member of the steering board of the International Conference on Internet-of-Things. Hannu Tenhunen is professor at the Swedish Royal Institute of Technology (KTH) in Stockholm, Sweden, and holds invited and honorary professorships in Finland, USA, France, China and Hong Kong. During the last 20 years he has been actively involved in high technology policies, technology impact studies, innovations and changing the educational system. For instance, he was director of various European graduate schools and he was Education Director of the new European flagship initiative European Institute of Technology and Innovations (EIT) and the Knowledge and Innovation Community: EIT ICT Labs. He has authored more than 700 scientific publications and holds 9 patents. Furthermore, he was one of the originators of the interconnect-centric design, globally asynchronous/locally synchronous concept and network-on-chip (NoC) paradigms.