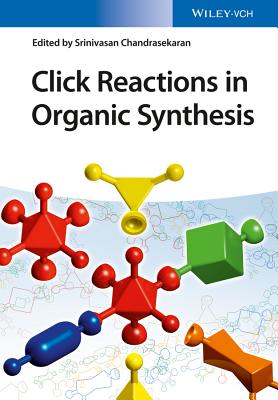 Click Reactions in Organic Synthesis (Hardcover)
Wiley-Vch, 9783527339167, 360pp.
Publication Date: September 13, 2016
* Individual store prices may vary.
Description
This book on click reactions to focus on organic synthesis, this reference work describes the click concept and underlying mechanisms as well as the main applications in various fields. As such, the chapters cover green chemical synthesis, metal-free click reactions, synthesis of pharmaceuticals, peptides, carbohydrates, DNA, macrocycles, dendrimers, polymers, and supramolecular architectures.
By filling a gap in the market, this is the ultimate reference for synthetic chemists in academia and industry aiming for a fast and simple design and synthesis of novel compounds with useful properties.

About the Author
Srinivasan Chandrasekaran is an Honorary Professor and SERB Distinguished Fellow at the Department of Organic Chemistry, Indian Institute of Science, Bangalore, India. He received his M.Sc. and Ph.D. from the University of Madras, India, in 1967 and 1972, respectively. He was a research associate at Harvard University (USA) with Prof. E.J. Corey, and Syntex Research (Palo Alto, USA). He has published over 250 research papers in national and international journals and served as an elected member of the Bureau of IUPAC and Member of the Executive Committee of IUPAC. He is the Chairman of the National Organic Symposium Trust (NOST), India and was the President of the Chemical Research Society of India (CRSI) from 2012 to 2014. He was the editor-in-chief of Tetrahedron Letters published by Elsevier( 2007-14) and is currently on the Board of Consulting Editors. His major research interests lie in the areas of development of new synthetic methodologies and organometallic chemistry, total synthesis of natural products, homogeneous and heterogeneous catalysis, and organic materials.
or
Not Currently Available for Direct Purchase