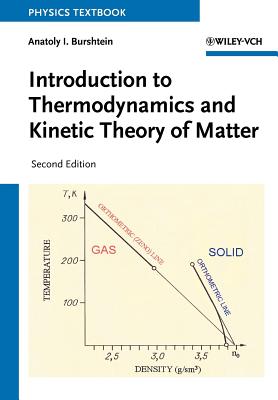 Introduction to Thermodynamics and Kinetic Theory of Matter (Physics Textbook) (Paperback)
Wiley-Vch, 9783527405985, 336pp.
Publication Date: April 22, 2005
* Individual store prices may vary.
Description
Imparts the similarities and differences between ratified and condensed matter, classical and quantum systems as well as real and ideal gases. Presents the quasi--thermodynamic theory of gas--liquid interface and its application for density profile calculation within the van der Waals theory of surface tension. Uses inductive logic to lead readers from observation and facts to personal interpretation and from specific conclusions to general ones.
About the Author
ANATOLY I. BURSHTEIN is Professor of Chemistry at the Weizmann Institute of Science in Israel. Formerly a professor of physics at Novosibirsk State University in the USSR, he also founded, then headed for two decades, the Theoretical Chemistry Lab in Siberia for the USSR's Academy of Science. Professor Burshtein has published over 200 articles and eight books, most recently Spectroscopy of Molecular Rotation in Gases and Liquids (1994).