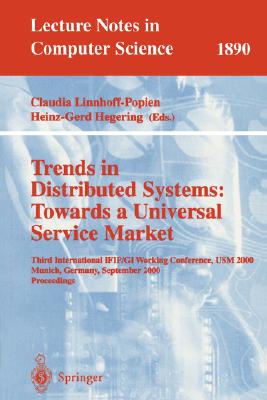 Trends in Distributed Systems (Paperback)
Towards a Universal Service Market: Third International Ifip/GI Working Conference, Usm 2000 Munich, Germany, September (Lecture Notes in Computer Science #1890)
Springer, 9783540410249, 344pp.
Publication Date: September 1, 2000
* Individual store prices may vary.
Description
USM 2000 is the third event in a series of international IFIP/GI conferences on Trends in Distributed Systems. Following the venues in Aachen, Germany (1996) and Hamburg, Germany (1998), this event in Munich considers the trend towards a Universal Service Market - USM 2000. The trend towards a universal service market has many origins, e.g., the integration of telecom and data communications, the deregulation e?orts with respect to telco markets, the globalization of information, the virtualization of companies, the requirement of a short time-to-market, the advances in network technologies, the increasing acceptance of e-commerce, and the increase in - bility. This leads to new business-to-business (B2B) and business-to-customer (B2C) environments that o?er both challenges and opportunities to enterprises and end-users. There is the need for ubiquitous services, trading, brokering and information management, for service market and business models, and for ?e- ble infrastructures for dynamic collaboration. Researchers, service vendors, and users must cooperate to set up the app- priate requirements for a universal service market and to ?nd solutions with respect to supporting platforms, middleware, distributed applications, and m- agement. The basis for these solution is a common understanding of means for de?ning, creating, implementing, and deploying the service market. Then, s- vice market makers, service aggregators, service auctioneers, ISP, ASP, BPO, and customers can freely interact in a dynamic, open, and universal market place.