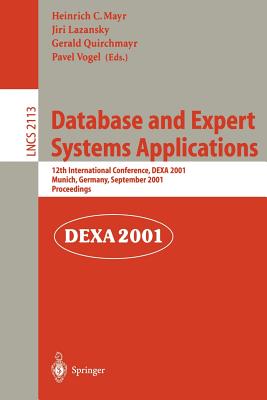 Database and Expert Systems Applications (Paperback)
12th International Conference, Dexa 2001 Munich, Germany, September 3-5, 2001 Proceedings (Lecture Notes in Computer Science #2113)
Springer, 9783540425274, 994pp.
Publication Date: August 29, 2001
* Individual store prices may vary.
Description
th DEXA 2001, the 12 International Conference on Database and Expert Systems Applications was held on September 3-5, 2001, at the Technical University of Munich, Germany. The rapidly growing spectrum of database applications has led to the establishment of more specialized discussion platforms (DaWaK conference, EC Web conference, and DEXA workshop), which were all held in parallel with the DEXA conference in Munich. In your hands are the results of much effort, beginning with the preparation of the submitted papers. The papers then passed through the reviewing process, and the accepted papers were revised to final versions by their authors and arranged with the conference program. All this culminated in the conference itself. A total of 175 papers were submitted to this conference, and I would like to thank all the authors. They are the real base of the conference. The program committee and the supporting reviewers produced altogether 497 referee reports, on average of 2.84 reports per paper, and selected 93 papers for presentation. Comparing the weight or more precisely the number of papers devoted to particular topics at several recent DEXA conferences, an increase can be recognized in the areas of XMS databases, active databases, and multi and hypermedia efforts. The space devoted to the more classical topics such as information retrieval, distribution and Web aspects, and transaction, indexing and query aspects has remained more or less unchanged. Some decrease is visible for object orientation.