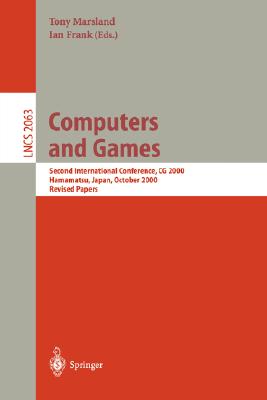 Computers and Games (Paperback)
Second International Conference, CG 2001, Hamamatsu, Japan, October 26-28, 2000 Revised Papers (Lecture Notes in Computer Science #2063)
Springer, 9783540430803, 450pp.
Publication Date: January 9, 2002
* Individual store prices may vary.
Description
This book contains the papers presented at CG2000 - the Second International ConferenceonComputersandGames-heldattheCURREACCenterinHa- matsu, Japan, on October 26-28, 2000. The CG conferences provide an international forum for researchers working on any aspect of computers and games to meet and exchange information on the latest research. CG2000 was attended by 80 people from over a dozen di?erent countries, thus building on the success of the inaugural Computers and Games conference, held in 1998. The third conference in the series is scheduled to take place alongside the AAAI conference in Edmonton, Alberta, Canada in 2002. The interests of the conference attendees and organizers cover all issues related togame-playing;forinstance, theimplementationandperformanceofprograms, new theoretical developments in game-related research, general scienti?c cont- butions produced by the study of games, social aspects of computer games, cognitive research on how humans play games, and issues related to networked games. This book contains all the new developments presented at CG2000. The CG2000 technical program consisted of 23 presentations of accepted papers and apanelsession.InadditiontherewereinvitedtalksbyMichaelLittmanofAT&T Labs, Kei-ichi Tainaka of Shizuoka University, and Nob Yoshigahara, noted - ventor, collector, and popularizer of puzzles. The conference was preceded by an informal workshop on October 26, 2000.