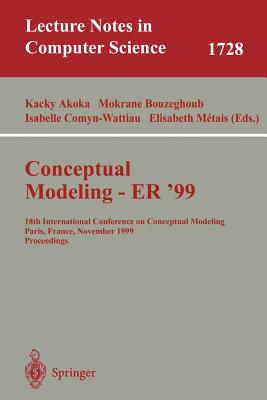 Conceptual Modeling Er'99 (Paperback)
18th International Conference on Conceptual Modeling Paris, France, November 15-18, 1999 Proceedings (Lecture Notes in Computer Science #1728)
Springer, 9783540666868, 546pp.
Publication Date: October 27, 1999
* Individual store prices may vary.
Description
This book provides a comprehensive state-of-the-art, in conceptual modeling. It grew out of research papers presented at the 18th International Conference on Conceptual Modeling (ER '99) and arranged by the editors. The plan of the conference is to cover the whole spectrum of conceptual modeling as it relates to database and information systems design and to offer a complete coverage of data and process modeling, database technology, and database applications. The aim of the conference and of these proceedings is to present new insights related to each of these topics. This book contains both selected and invited papers. The 33 selected papers are organized in 11 sessions encompassing the major themes of the conference, especially: - schema transformation, evolution, and integration - temporal database design - views and reuse in conceptual modeling - advanced conceptual modeling - business process modeling and workflows - data warehouse design. Besides the selected papers, 3 invited papers present the views of three keynote speakers, internationally known for their contribution to conceptual modeling and database research and for their active role in knowledge dissemination. Peter Chen presents the results of his ongoing research on ER model, XML, and the Web. Georges Gardarin presents the first results of an ESPRIT project federating various data sources with XML and XML-QL. Finally, Matthias Jarke develops a way to capture and evaluate the experiences gained about process designs in so-called process data warehouses.