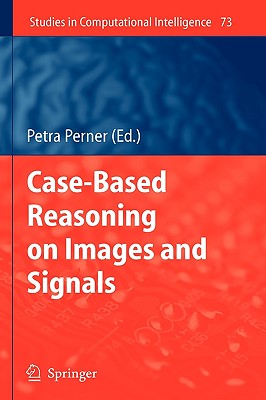 Case-Based Reasoning on Images and Signals (Studies in Computational Intelligence #73) (Hardcover)
Springer, 9783540731788, 436pp.
Publication Date: December 1, 2007
Other Editions of This Title:
Paperback (10/28/2010)
* Individual store prices may vary.
Description
This book is the ?rst edited book that deals with the special topic of signals and images within case-based reasoning (CBR). Signal-interpreting systems are becoming increasingly popular in medical, industrial, ecological, biotechnological and many other applications. Existing statisticalandknowledge-basedtechniqueslackrobustness, accuracy, and?- ibility. New strategies are needed that can adapt to changing environmental conditions, signal variation, user needs and process requirements. Introducing CBRstrategiesintosignal-interpretingsystemscansatisfytheserequirements. CBR can be used to control the signal-processing process in all phases of a signal-interpreting system to derive information of the highest possible qu- ity. Beyond this CBR o?ers di?erent learning capabilities, for all phases of a signal-interpretingsystem, thatsatisfydi?erentneedsduringthedevelopment process of a signal-interpreting system. In the outline of this book we summarize under the term "signal" signals of 1-dimensional, 2-dimensional or 3-dimensional nature. The unique data and the necessary computation techniques require ext- ordinary case representations, similarity measures and CBR strategies to be utilised. Signalinterpretation(1D,2D, or3Dsignalinterpretation)istheprocessof mapping the numerical representation of a signal into logical representations suitable for signal descriptions. A signal-interpreting system must be able to extract symbolic features from the raw data e.g., the image (e.g., irregular structure inside the nodule, area of calci?cation, and sharp margin). This is a complex process; the signal passes through several general processing steps before the ?nal symbolic description is obtained. The structure of the book is divided into a theoretical part and into an application-oriented part.