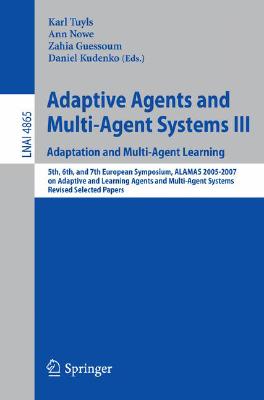 Adaptive Agents and Multi-Agent Systems III. Adaptation and Multi-Agent Learning (Paperback)
Adaptation and Multi-Agent Learning, 5th, 6th, and 7th European Symp (Lecture Notes in Computer Science #4865)
Springer, 9783540779476, 254pp.
Publication Date: March 1, 2008
* Individual store prices may vary.
Description
This book contains selected and revised papers of the European Symposium on Adaptive and Learning Agents and Multi-Agent Systems (ALAMAS), editions 2005, 2006 and 2007, held in Paris, Brussels and Maastricht. The goal of the ALAMAS symposia, and this associated book, is to increase awareness and interest in adaptation and learning for single agents and mul- agent systems, and encourage collaboration between machine learning experts, softwareengineeringexperts, mathematicians, biologistsandphysicists, andgive a representative overviewof current state of a?airs in this area. It is an inclusive forum where researchers can present recent work and discuss their newest ideas for a ?rst time with their peers. Thesymposiaseriesfocusesonallaspectsofadaptiveandlearningagentsand multi-agent systems, with a particular emphasis on how to modify established learning techniques and/or create new learning paradigms to address the many challenges presented by complex real-world problems. These symposia were a great success and provided a forum for the pres- tation of new ideas and results bearing on the conception of adaptation and learning for single agents and multi-agent systems. Over these three editions we received 51 submissions, of which 17 were carefully selected, including one invited paper of this year's invited speaker Simon Parsons. This is a very c- petitive acceptance rate of approximately 31%, which, together with two review cycles, has led to a high-quality LNAI volume. We hope that our readers will be inspired by the papers included in this volume.