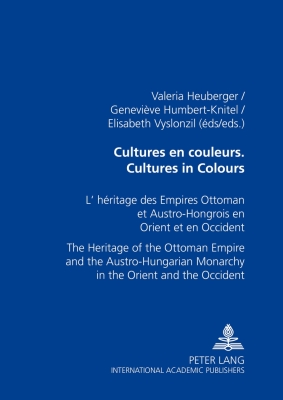 Cultures En Couleurs- Cultures in Colours
L'Héritage Des Empires Ottoman Et Austro-Hongrois En Orient Et En Occident- The Heritage of the Ottoman Emp
Paperback

* Individual store prices may vary.
Other Editions of This Title:
Paperback, French (1/1/2001)
Description
Les contributions de cet ouvrage sont consacr es l'h ritage de l'Empire ottoman et la Monarchie austro-hongroise dans l'Orient et dans l'Occident. Le livre pr sente les r sultats de recherches contemporaines concernant l'impact historique, politique et culturel de cet h ritage et il donne une vue d'ensemble d'approches comparatives aux tudes balkaniques et ottomanes. Les th mes discut's portent sur les droits des minorit's, le r le des femmes dans la soci t , le droit la diff rence et l'influence des m dias sur la politique dans les deux empires. Cultures en couleurs apporte des conclusions importantes concernant ce th me complexe et fascinant.
The contributions to this book are dedicated to the heritage of the Ottoman Empire and the Austro-Hungarian Monarchy in the Orient and Occident. The book presents current research concerning the historical, political and cultural impact of this legacy and gives an overview of comparative approaches to Balkan and Ottoman studies.
Issues discussed are: minority rights, the role of women in society, droit la diff rence and the media's influence on politics in both empires. Cultures in Colours provides valuable insights into this complex and fascinating topic.
Peter Lang Gmbh, Internationaler Verlag Der W, 9783631368084, 98pp.
Publication Date: November 1, 2001
or
Not Currently Available for Direct Purchase