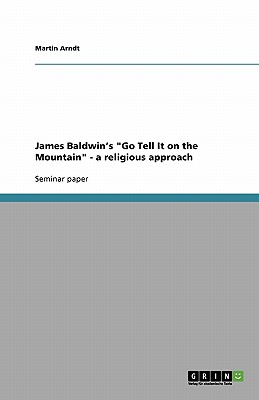 James Baldwin's Go Tell It on the Mountain - a religious approach
Paperback

* Individual store prices may vary.
Description
Seminar paper from the year 2001 in the subject Theology - Miscellaneous, grade: good, University of Leipzig, language: English, abstract: James Arthur Baldwin was born to Emma Berdis Jones and an unknown father on August 2, 1924, in New York City. The fact that he did not know about the identity of his biological father haunted him all his life. Who was to become Baldwin's stepfather was a laborer and Pentecostal preacher who came - as part of the Great Migration - to New York in 1919 "seeking better social conditions and economic opportunities." (Kenan 1994: 26) After he married her, he began to preach in storefront churches and made a living of a job he had in a bottle factory on Long Island, and although he "worked steadily, until encroaching age and illness prohibited it," were his wages seldom high enough to feed his big family2, especially during the Great Depression. (Kenan: 27) As described in "Notes of a Native Son" this situation had contributed to his father's "intolerable bitterness of spirit."(Kenan: 88) It was "unrelieved bitterness and anger" that "drove his father] away permanently in 1932." (Kenan: 27) James was very much influenced and shaped by his stepfather, and the problems that derived from his relationship to him became in my eyes a powerful motor for his poetry writings and determined his future decisions. To his father the young boys intelligence and his interest in books was but a source of danger, for "the Bible was the only book worth reading." (Kenan: 29) If it wasn't for Orilla "Bill" Miller, a white woman from the Midwest who stepped up against his fathers objections, and for Gertrude Ayer, a black principal who encouraged the young boy to write stories, plays and poems, James would have been deprived of a valuable education, because in the Baldwin household "education was suspect as a tool of the white devils not particularly useful to black men in a racist society that placed so many checks on their ambition." (Kenan: 31) James Ba.
Grin Publishing, 9783638866255, 28pp.
Publication Date: November 29, 2007
or
Not Currently Available for Direct Purchase