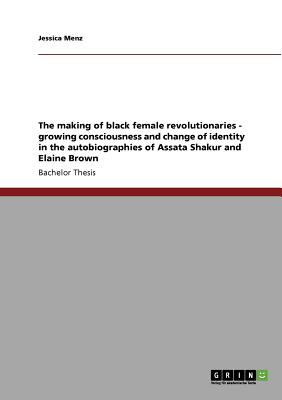 The making of black female revolutionaries - growing consciousness and change of identity in the autobiographies of Assata Shakur and Elaine Brown
Paperback

* Individual store prices may vary.
Description
Bachelor Thesis from the year 2006 in the subject American Studies - Literature, grade: 1,15, University of Bayreuth, 40 entries in the bibliography, language: English, abstract: In this thesis I will first briefly outline general aspects of the autobiographical genre, with emphasis on the tradition of life narratives written by African Americans. As this thesis focuses on two autobiographies written by women, I will also go into major characteristic aspects that distinguish their personal accounts from men's before introducing the autobiographies of Assata Shakur and Elaine Brown within the larger context. Chapter three will be dedicated to a closer look on their works. I will focus on Shakur's and Brown's representations of themselves as black women and their becoming revolutionaries within the dynamics of gender and power. I will illustrate important aspects of their identity formation during childhood and adolescence, e.g. family backgrounds, school education, ghetto life and their relationship to male age mates, as well as their slow process of identity change due to growing critical awareness and introduction to the Black Power Movement. I will also focus on whether and if yes, how, their current identity is again challenged within the Black Power Movement and especially within and outside of the Black Panther Party. Lastly I will shortly concentrate on the autobiographies' respective closures and how the two women see themselves, directly after leaving organized struggle behind (Brown) or from exile several years later (Shakur). By writing their autobiographies Brown and Shakur take advantage of the opportunity to tell their version of the story. How the two women create their identity and depict themselves retrospectively as being quite different from their public image will be the central focus of this paper.
Grin Publishing, 9783638947626, 92pp.
Publication Date: June 2, 2008