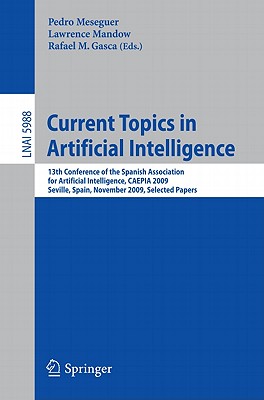 Current Topics in Artificial Intelligence (Paperback)
13th Conference of the Spanish Association for Artificial Intelligence, Caepia 2009, Seville, Spain, Novemb
Springer, 9783642142635, 302pp.
Publication Date: July 7, 2010
* Individual store prices may vary.
Description
This volume contains a selection of the papers accepted for oral presentation at the 13th Conference of the Spanish Association for Arti?cial Intelligence (CAEPIA 2009) and its associated Conference on Arti?cial Intelligence Te- nology Transfer (TTIA 2009), held in Seville, November 9 13, 2009. This was the 13th biennial conference in the CAEPIA series, which was started back in 1985. Previous editions took place in Madrid, Alicante, Mal aga, Murcia, Gijon, Donostia, Santiago de Compostela and Salamanca. With the permanent goal of making CAEPIA/TTIA a high-quality conf- ence, andfollowingthemodelofcurrentdemandingAIconferences, weorganized the review process for CAEPIA and TTIA papers in the following way. The S- enti?c Committee was structured in two levels. In the ?rst place, there was a Senior Program Committee, formed by 22 well-known members of the AI c- munity a?liated to Spanish universities and research centers. Secondly, there was a Program Committee consisting of almost 100 members (30% a?liated to non-Spanishinstitutions).EachpaperwasassignedtothreeProgramCommittee members who made the reviews (following the double-blind model), and to two Senior Program Committee members, who supervised these reviews. Authors could read the reviews during three days, and then introduce some feedback. These replies to the reviews were added to the review process, papers were d- cussed again, and ?nally Senior Program Committee members made a proposal to the Scienti?c Committee Chair.