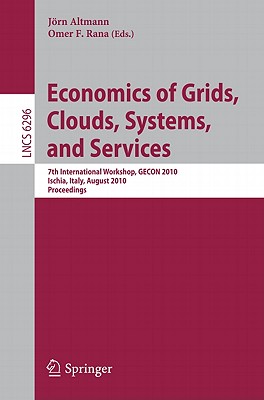 Economics of Grids, Clouds, Systems, and Services (Paperback)
7th International Workshop, GECON 2010, Ischia, Italy, August 31, 2010, Proceedings (Lecture Notes in Computer Science #6296)
Springer, 9783642156809, 164pp.
Publication Date: August 30, 2010
Other Editions of This Title:
Paperback (7/20/2016)
Paperback (1/8/2015)
Paperback (9/13/2013)
* Individual store prices may vary.
Description
The commercial exploitation of distributed computing technologies is slowly starting to become popular under the general area of cloud computing. These solutions allow selling and buying of resources (i.e., computing, network, software, and data resources) on demand. Existing solutions in this area are diverse, ranging from Infrastructure-- a-Service (IaaS) models via Platform-as-a-Service (PaaS) to Software-as-a-Service (SaaS) models. Although the economics of these services is not yet fully understood and the interoperability between such services is still lacking, a common market for computing services is slowly developing. Such a market would allow buyers and sellers of computing services to trade their excess capacity or make available their capacity at a cost. However, it is still not p- sible for a market participant to act as a resource provider or seller, or trade based on the current level of demand. Another example of a developing open market is the emergence of Web2.0-based services. These enable consumers to create new services by aggregating services from multiple providers. The benefit of these solutions is that "value" can be created by combining services at different prices.