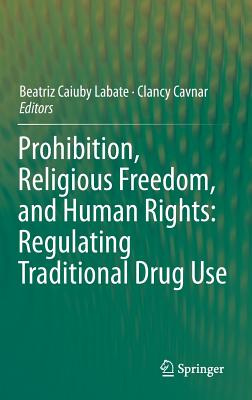 Prohibition, Religious Freedom, and Human Rights (Hardcover)
Regulating Traditional Drug Use
Springer, 9783642409561, 254pp.
Publication Date: April 4, 2014
Other Editions of This Title:
Paperback (8/23/2016)
* Individual store prices may vary.
About the Author
Beatriz Caiuby Labate has a Ph.D. in Social Anthropology from the State University of Campinas (UNICAMP), Brazil. Her main areas of interest are the study of psychoactive substances, drug policy, shamanism, ritual, and religion. She is Visiting Professor at the Drug Policy Program of the Center for Economic Research and Education (CIDE) in Aguascalientes, Mexico. She is also Research Associate at the Institute of Medical Psychology, Heidelberg University, co-founder of the Nucleus for Interdisciplinary Studies of Psychoactives (NEIP), and editor of NEIP's website (http: //www.neip.info). She is author, co-author, and co-editor of twelve books, one special-edition journal, and several peer-reviewed articles. For more information, see: http: //bialabate.net/ Clancy Cavnar, Psy.D., is currently completing her postdoctoral hours in clinical psychology at the Marin Treatment Center, a methadone clinic in San Rafael, California. In 2011, she received a doctorate in clinical psychology (PsyD) from John F. Kennedy University in Pleasant Hill, California, with a dissertation on gay and lesbian people's experiences with ayahuasca. She attended New College of the University of South Florida and completed an undergraduate degree in liberal arts in 1982. She attended the San Francisco Art Institute and graduated with a Master of Fine Art in painting in 1985. In 1993, she received a certificate in substance abuse counseling from the extension program of the University of California at Berkeley and, in 1997, she graduated with a master's in counseling from San Francisco State University. In that same year, she got in touch with the Santo Daime in the USA, and has traveled several times to Brazil since then. She is Research Associate of the Nucleus for Interdisciplinary Studies of Psychoactives (NEIP), and co-editor, with Beatriz Caiuby Labate, of three books: The Therapeutic Use of Ayahuasca (Springer, 2014); Prohibition, Religious Freedom, and Human Rights: Regulating Traditional Drug Use (Springer, 2014) and Ayahuasca Shamanism in the Amazon and Beyond (Oxford University Press, 2014).