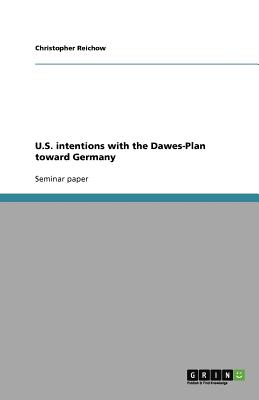 U.S. Intentions with the Dawes-Plan Toward Germany (Paperback)
Grin Publishing, 9783656019589, 28pp.
Publication Date: October 4, 2011
* Individual store prices may vary.
Description
Seminar paper from the year 2010 in the subject History Europe - Other Countries - Ages of World Wars, grade: 1,0, University of Oregon, language: English, abstract: U.S. President Calvin Coolidge used magniloquent words in a message to the Congress, dated only about four months after the implementation of the Dawes-Plan, when he said that the U.S. "desire to see Europe restored which then] may resume its productivity in the increase of industry and its support in the advance of civilization." The Dawes-Plan would be the hopeful prospect for achieving this aim. It would bring peace, the leading principle of all American foreign relations, to Europe. With the Dawes-Plan, the reconstruction of Germany was given priority. In fact, American capital and initiative was putting Germany once more on the map of international financial relations and eased the reparation conflict, which dominated international relations since the Treaty of Versailles. The economic contacts and corporations between the United States and Germany intensified and the transatlantic transfer of bonds and technologies had a deep impact on German society. But why did the U.S. invest so much in their former wartime enemy? What was the aim of U.S. foreign politics in this time? By examining official documents of the American government, this paper wants to reveal the intentions of the American economic policies with the Dawes-Plan toward Germany.