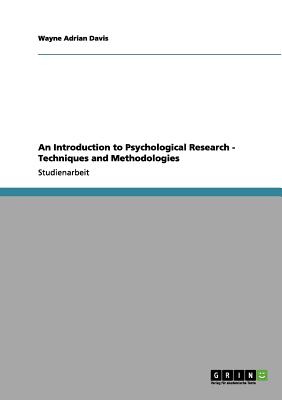 An Introduction to Psychological Research - Techniques and Methodologies (Paperback)
Grin Publishing, 9783656090663, 52pp.
Publication Date: December 28, 2011
* Individual store prices may vary.
Description
Studienarbeit aus dem Jahr 2010 im Fachbereich Psychologie - Allgemeine Psychologie, Sprache: Deutsch, Abstract: Understanding Research is a key to understanding psychology which in a way opens access to the psychologist to help individuals with difficulties or suggests a new phenomenon to upgrade the way we handled things such us studying, parenting or even starting a new business. Whatever methods psychologists use, sooner or later they find it necessary to make statements about amounts or qualities (Hilgard, Atkinson and Atkinson, 1975). Psychology researchers study a wide variety of topics, ranging from the development of infants to the behavior of social groups. Psychologists use the scientific method to investigate questions both systematically and empirically. This scientific method can be divided into two major categories that usually occur in sequence: forming an idea and then testing it. The study of research methods is a prerequisite to recognition as a licensed psychologist in most countries, moreover, research methods and statistics help one to accurately formulate a theory and follow through with the appropriate investigation and inquiry. This text is written in an attempt to discuss how these researches are initiated, conducted and publicized. I would like to thank the Atlantic International University for the opportunities of a life time to investigate this course learn from it and being able to write this essay.