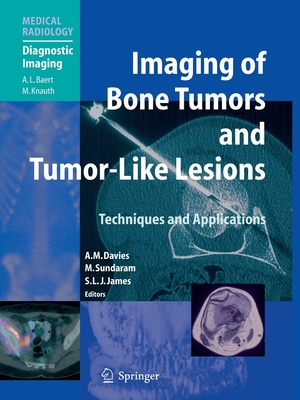 Imaging of Bone Tumors and Tumor-Like Lesions
Techniques and Applications
Paperback

* Individual store prices may vary.
Other Editions of This Title:
Hardcover (9/17/2009)
Description
1 Classification and Epidemiology Lars Gunnar Kindblom and Jeanne M. Meis Imaging Techniques 2 Computed Tomography Richard W. Whitehouse 3 Magnetic Resonance Imaging Sinchun Hwang and David M. Panicek 4 Nuclear Medicine Ruth Green 5 Ultrasound Asif Saifuddin 6 Interventional Techniques (Excluding Biopsy) Steven James Applications 7 Principals of Detection and Diagnosis A. Mark Davies 8 Biopsy Wilfred C.G. Peh 9 Surgical Staging 1: Primary Tumour Asif Saiffudin 10 Surgical Staging 2: Metastatic Disease Miriam A. Bredella 11 Assessment of Response to Chemotherapy and Radiotherapy Koenraad Verstraete 12 Assessment of Locally Recurrent Disease Susan Verghese Kattapuram Tumour Subtypes 13 Cartilage Tumours Karl Ludwig 14 Osteogenic Tumours Daniel Vanel 15 Fibrogenic and Fibrohistiocytic Tumours Murali Sundaram and Monica Koplas 16 Giant Cell Tumour Mark J. Kransdorf 17 Ewing Sarcoma/PNET Filip Vanhoenacker 18 Haematopoietic Tumours Laura W. Bancroft 19 Vascular Tumours Johan L. Bloem 20 Notochordal Tumours Victor Cassar-Pullicino 21 Smooth Muscle Tumours Murali Sundaram and Claus Simpfendorfer 22 Lipogenic Tumours Robert S.D. Campbell 23 Fibrous Dysplasia, Osteofibrous Dysplasia and Adamantinoma Sriram Mannava and Murali Sundaram 24 Bone Cysts Paul G. O'Donnell 25 Langerhans Cell Histiocytosis Karl J. Johnson 26 Bone Metastases 1: Spine Victor Cassar-Pullicino 27 Bone Metastases 2: Pelvis and Appendicular Skeleton Bernhard J. Tins, Radhesh Lalam, and Victor Cassar-Pullicino 28 Radiation-induced Tumours A. Mark Davies 29 Paget's Disease Related Tumours A. Mark Davies 30 Reactive, Metabolic and Tumour-like Lesions of Bone Murali Sundaram and Darshana Sanghvi Anatomical Considerations 31 Clavicle and Ribs Peter L. Munk 32 Scapula Suzanne Anderson-Sembach 33 Spine and Sacrum Hakan Ilaslan 34 Pelvis David Ritchie 35 Hand and Wrist Steven James 36 Patella Steven James 37 Foot David Ritchie 38 Compartmental Anatomy Nancy Major 39 Who was Who in Bone Tumours? Etienne Pluot Subject Index List of Contributors.
Springer, 9783662501634, 701pp.
Publication Date: August 23, 2016