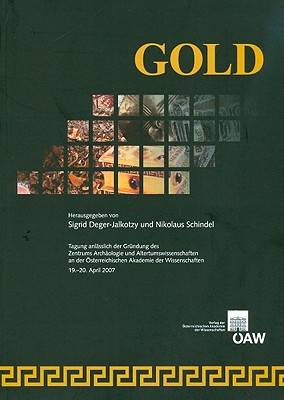 Gold (Paperback)
Tagung Anlasslich Der Grundung Des Zentrums Archaologie Und Altertumswissenschaften an Der Osterreichischen Akademie D (Denkschriften Der Phil.-Hist. Klasse #377)
Austrian Academy of Sciences Press, 9783700165477, 142pp.
Publication Date: March 3, 2009
* Individual store prices may vary.
Description
English summary: On the occasion of the founding of the Centre for Ancient World Studies at the Austrian Academy of Sciences, a symposium was held from 19 to 20 April 2007 with the goal of presenting the wide variety of research projects being conducted at the Centre to a broader audience by means of an examination of a common topic. The topic Gold was chosen since this precious metal has played an exceptional role in all ancient cultures and in all spheres of life, in religion and cults, in literature and philosophy, in fine art and handicrafts, in power and social structures, and in commerce. Gold has also, in all time periods, tempted people to conduct immoral and criminal acts. Forgery and alchemist experiments were not alien to people in antiquity. For this reason, among others, philosophers of the ancient world as well as the early Christians were quite ambivalent about the value of gold. It is therefore not surprising that the contributions to the first symposium of the Centre for Ancient World Studies discussed gold from a large number of perspectives and based on very different methods. German description: Aus Anlass der Grundung des Zentrums Archaologie und Altertumswissenschaften an der Osterreichischen Akademie der Wissenschaften wurde am 19. und 20. April 2007 eine Tagung abgehalten, die einer breiteren Offentlichkeit die fachliche Weite und die Vielfalt der am Zentrum durchgefuhrten Forschungsprojekte anhand eines gemeinsamen Themas vor Augen fuhren sollte. Das Thema Gold wurde gewahlt, weil dieses Edelmetall in allen Kulturen des Altertums und in allen Bereichen des Lebens eine hervorragende Rolle spielte, in Religion und Kult, in Literatur und Philosophie, in Kunst und Kunsthandwerk, in den Herrschafts- und Gesellschaftsstrukturen, und in der Wirtschaft. Es zeigt aber auch auf, dass das Gold zu allen Zeiten die Menschen zu unmoralischen und verbrecherischen Handlungen verleitete. Auch Falschen und alchemistische Versuche waren dem antiken Menschen nicht fremd. Nicht zuletzt deshalb war die Wertung des Goldes bei antiken Philosophen ebenso wie bei den fruhen Christen durchaus ambivalent. Es ist daher nicht verwunderlich, dass die Beitrage zur ersten Tagung des Zentrums Archaologie und Altertumswissenschaften das Thema Gold aus verschiedenen Perspektiven und mit sehr unterschiedlichen Methoden beleuchteten.
or
Not Currently Available for Direct Purchase