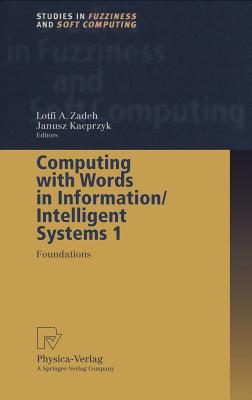 Computing with Words in Information/Intelligent Systems 1 (Hardcover)
Foundations (Studies in Fuzziness and Soft Computing #33)
Physica-Verlag, 9783790812176, 518pp.
Publication Date: July 16, 1999
Other Editions of This Title:
Paperback (7/13/2013)
* Individual store prices may vary.
Description
These two volumes consIstmg of Foundations and Applications provide the current status of theoretical and empirical developments in "computing with words." In philosophy, the twentieth century is said to be the century of language. This is mainly due to Wittgenstein who said: "The meaning of a word is its use in the language game." "The concept game is a concept with blurred edges." In the first phrase, "the language game" implies the everyday human activity with language, and in the latter, "game" simply implies an ordinary word. Thus, Wittgenstein precisely stated that a word is fuzzy in real life. Unfortunately this idea about a word was not accepted in the conventional science. We had to wait for Zadeh's fuzzy sets theory. Remembering Wittgenstein's statement, we should consider, on the one hand, the concept of "computing with words" from a philosophical point of view. It deeply relates to the everyday use of a word in which the meaning of a word is fuzzy in its nature.