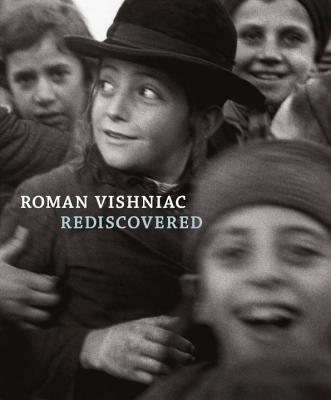 Roman Vishniac Rediscovered (Hardcover)
Prestel, 9783791353951, 384pp.
Publication Date: October 25, 2015
* Individual store prices may vary.
Description
Emphasizing Roman Vishniac's prodigious talents as one of the great documentary photographers of the 20th century, this volume presents the full range of his artistic genius. Drawn from the International Center of Photography's
vast holdings of work by Roman Vishniac (1897–1990), this
generously illustrated and expansive volume offers a new and
profound consideration of this key modernist photographer. In
addition to featuring Vishniac's best-known work—the iconic
images of Jewish life in Eastern Europe before the Holocaust—
this publication also introduces many previously unpublished
photographs spanning more than six decades of Vishniac's
work. These include newly discovered images of prewar Berlin,
rare film footage from rural Jewish communities in Carpatheina
Ruthania, documentation of postwar ruins and Displaced
Persons' camps, and vivid coverage of Jewish life in America
in the 1940s and '50s. Essays by world-renowned scholars of
photography, Jewish history and culture address these newfound
images and consider them in the context of modernist
tendencies in Berlin in the 1920s and '30s; the rise of Nazi power
in Germany and Eastern Europe; the uses of social documentary
photography for relief organizations; the experiences of exile,
displacement, and assimilation; and the impact of Vishniac's
pioneering scientific research in color photomicroscopy in the
1950s and '60s. This first retrospective monograph on Roman
Vishniac offers many new perspectives on the work and career
of this important photographer, positioning him as one of the
great modernists and social documentary photographers of the
last century.
Praise For Roman Vishniac Rediscovered…
"Including both recognized and previously unpublished photographs, Roman Vishniac Rediscovered is the first retrospective of the modernist and social documentary photographer's work. This well-done, comprehensive study of Vishniac's photographic work includes images of pre-Holocaust Jewish life in eastern Europe, the Nazi rise to power, postwar Europe, displaced persons camps, Jewish life in the U.S. in the 1940s and 50s, and colour photomicroscopy."

—Photo Life
"It's an impressive coffee-table book of nearly 400 pages brimming with evocative black-and-white photographs and thoughtful essays. The photographs in Roman Vishniac Rediscovered are eclectic. Pedestrians fill a crowded Jewish shopping district in Warsaw. A man steers a horse-drawn cart. A vendor hawks goods. An ultra-Orthodox Jew strolls on a cobblestone street. Boys study in a yeshiva. Beyond these iconic images, penetrating photographs portray pre-war Paris, Berlin in the aftermath of World War II, the arrival of Jewish refugees in DP camps and New York City. . . . Roman Vishniac Rediscovered pays homage to a dedicated and talented photographer whose imperishable photographs of Europe and America leave an indelible impression in our hearts and minds."

—<a href="http://sheldonkirshner.com/roman-vishniac-rediscovered/">Sheldon Kirshner</a>
Finalist for the 2016 Jordan Schnitzer Book Awards.
or
Not Currently Available for Direct Purchase