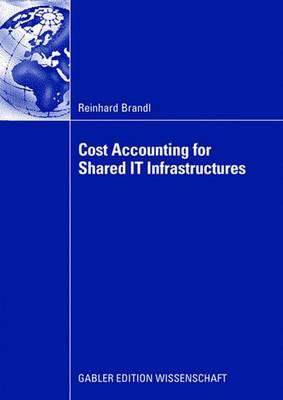 Cost Accounting for Shared It Infrastructures (Hardcover)
Gabler Verlag, 9783834908971, 225pp.
Publication Date: March 26, 2008
Other Editions of This Title:
Paperback (9/29/2014)
* Individual store prices may vary.
Description
During the past few years, determining the "value of IT" has ranked high on the agenda of IT managers and Chief Information O?cers (CIOs). The rather broad and abstract topic has been intensively discussed in the Information Systems literature for many years. It turns into a very tangible problem in the ?eld of IT cost accounting. Nowadays, c- porate information systems are distributed systems. A detailed measurement of resource demands of IT services on a distributed IT-infrastructure and respective accounting and cost allocation turns out to be very expensive and impractical in most cases. The large proportion of indirect costs and the di?culty of ?nding adequate allocation rates are a signi?cant problem in practice, regularly leading to free-rider problems. This problem has largely been ignored in the academic literature so far. Dr. Brandl proposes a method to derive estimators for the resource demand of service requests in a distributed IT infr- tructure. This estimator is based on a set of load tests and respective measurements as they are often performed during the deployment phase of new information systems. Cost allocation keys can now be determined based on the number of service invocations per user or per department and the respective estimators. While these measurements provide a lean method for the determination of usage-based cost allocation keys, it is not obvious that the estimators have su?cient accuracy, in p- ticular concerning di?erent types of services and volatile workloads.