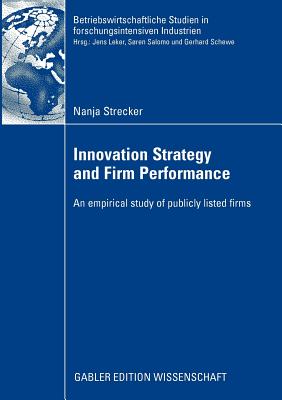 Innovation Strategy and Firm Performance (Paperback)
An Empirical Study of Publicly Listed Firms (Betriebswirtschaftliche Studien in Forschungsintensiven Indu)
Gabler Verlag, 9783834917553, 242pp.
Publication Date: June 16, 2009
* Individual store prices may vary.
Description
In practically oriented studies, innovation strategy is consistently iden- fied as a key success factor for innovation performance as well as susta- able, overall firm performance. Empirical research has, in comparison to other aspects of innovation management, not devoted much attention to this topic. In addition to this lack of empirically validated results, there is a deficit of clear definition in terms of what is actually meant by inno- tion strategy. Nanja Strecker's dissertation starts there and concentrates on three central questions: What characterizes innovation strategy of companies? To what extend does a relationship between innovation str- egy and a firm's performance exist and which critical conditions need to be considered for this relationship? Nanja identifies and answers these practically as well as scientifically highly relevant and interesting research questions. The research was conducted in a highly competent manner. Particularly worth emphasizing is the coherent deduction of the conceptual framework as well as the hypotheses, considering prior empirical evidence in a very comprehensive manner. The good conceptual part is even - ceeded by the sophisticated empirical study. Impressively, Nanja proves her methodological competence and diligence when analyzing her data. The presented results are very interesting and, to a large extend, support the formulated hypotheses. Moreover, the present study states meani- ful suggestions for future research in innovation management. For m- agement practice in particular, Nanja's research provides interesting - vice on how to improve firms' innovation management.