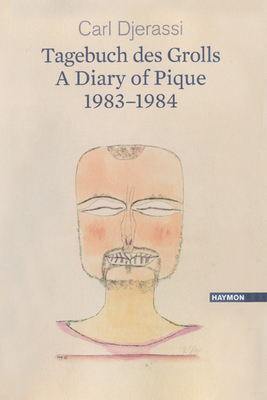 A Diary of Pique 1983–1984 / Ein Tagebuch des Grolls 1983–1984
A Bilingual Poetry Collection
Hardcover

* Individual store prices may vary.
Description
On May 8, 1983, Carl Djerassi is rejected by the great love of his life, the renowned literary scholar and biographer Diane Middlebrook. Wounded and angry, this man of science seeks solace and release in an unexpected way: writing free-verse poetry. Brutally open, Djerassi's "poetic volcanic eruption" is the lyrical diary of a man full of anger and self-pity, grieving with unsparing honesty about the end of a relationship.
    Offering deeply personal insights, the poems chronicle Djerassi's emotional world in this period before the unexpected return of his beloved in 1984. He and Middlebrook married in 1985. Only some years after her death in 2007 did Djerassi return to these poems to revise them. They are published here for the first time, with German- and English-language versions on facing pages. The bilingual interplay between Djerassi's mother tongue and his adopted literary language offers a richly intimate perspective on the scientist, the writer, the art connoisseur, and the romantic that is Carl Djerassi.

Praise For A Diary of Pique 1983–1984 / Ein Tagebuch des Grolls 1983–1984: A Bilingual Poetry Collection…
"There should be more poetry books like Carl Djerassi's perfectly titled A Diary of Pique 1983–1984. Among other things, it would make poetry a great deal more attractive to a great many people who may not think they're poetry readers but who respond to a good story, a playful use of language, and a dose of spice—not to mention intelligence that isn't out to advertise itself and feeling that's utterly stripped of sentimentality."—Bruce Bawer, The Hudson Review


"This edition of poems is a chance to know Djerassi that much more, to know something of the vexing nature of loss, and know something of the curative restitution that comes with the passing of time. We are indeed better for this book."—The Kenyon Review

Haymon Verlag, 9783852187198, 192pp.
Publication Date: October 2, 2012
About the Author
Carl Djerassi (1923–2015) was the author of many novels, plays, essays, poetry, and short stories published in twenty languages. Renowned as both a writer and a scientist, he was an emeritus professor of chemistry at Stanford University and the recipient of thirty honorary doctorates as well as many international scientific honors. His books published by the University of Wisconsin Press are: How I Beat Coca-Cola and Other Tales of One-Upmanship; Foreplay: Hannah Arendt, the Two Adornos, and Walter Benjamin; Sex in an Age of Technological Reproduction:? "ICSI" and "Taboos"; and A Diary of Pique 1983–1984 / Ein Tagebuch des Grolls 1983–1984.
or
Not Currently Available for Direct Purchase