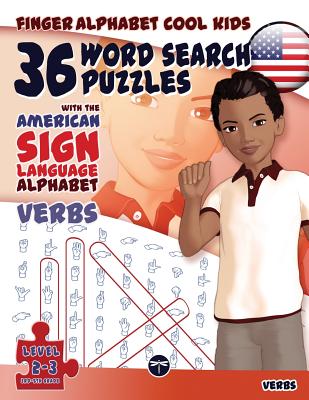 36 Word Search Puzzles with the American Sign Language Alphabet
Cool Kids Volume 02: Verbs (Fingeralphabet Cool Kids #2)
Paperback

* Individual store prices may vary.
Other Editions of This Title:
Paperback (10/9/2014)
Paperback (8/13/2014)
Description
Have fun and learn with the American Sign Language Alphabet
The FingerAlphabet Cool Kids Word Search Books are a fun way to strengthen your fingerspelling and general spelling abilities.
Each book focusses on a topic. The second book of the series centers on verbs (3rd-5th grade).
This book will help any person who enjoys word search puzzles (not only kids) to learn the American Sign Language Alphabet
You will:
- learn the correct American Sign Language Alphabet - all hand shapes are consistently shown as seen by the viewer Approved by experts from Gallaudet University.
- learn the correct spelling of words by associating two different representations of letters.
- reinforce and possibly expand their active vocabulary.
- get a basic insight into the how-tos of fingerspelling.
Solutions are provided in the final section of the book.
Legendarymedia, 9783864691065, 46pp.
Publication Date: September 10, 2014