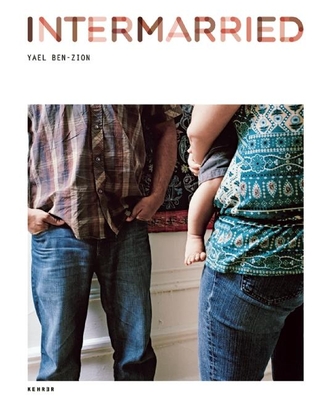 Intermarried
Hardcover

* Individual store prices may vary.
Description
Following her award-winning monograph 5683 miles away, Yael Ben-Zion fixes her camera on another personal but politically charged theme: intermarriage. Ben-Zion initiated the project in 2009, inviting couples who define themselves as "mixed" to participate. Her own marriage "mixed," she was interested in the many challenges faced by couples who choose to share their lives regardless of their different origins, ethnicities, races, or religions.
Through layered images and revealing texts--including excerpts from a questionnaire she asked her subjects to fill out--Intermarried weaves together fragments of reality to compose a subtle narrative that deals with the multifaceted issues posed by intermarriage.
Kehrer Verlag, 9783868284188, 126pp.
Publication Date: January 7, 2014
About the Author
Yael Ben-Zion was born in Minneapolis, MN and raised in Israel. She is a graduate of the International Center of Photography's General Studies Program. Prior to taking up photography, Yael had a diverse legal career which included pursuing LL.M. and J.S.D. degrees at the Yale Law School. It was at Yale that she took her first formal photography class. Yael's work has been exhibited in the United States and in Europe and she is the recipient of various grants and awards, including ICP's Directors' Scholarship Award, the International Photography Awards and recent grants from NoMAA and the Puffin Foundation. In 2010 she published her award-winning monograph 5683 miles away (Kehrer). She currently lives in New York. Amy Chua is the John M. Duff Professor of Law at Yale Law School. She received both her A.B. and her J.D. from Harvard University. While at Harvard Law School, Professor Chua was executive editor of the Harvard Law Review. Prior to entering academics in 1994, she practiced with the Wall Street firm of Cleary, Gottlieb, Steen & Hamilton. Professor Chua joined the Yale Law School faculty in 2001. Her first book, World on Fire: How Exporting Free Market Democracy Breeds Ethnic Hatred and Global Instability was a New York Times bestseller and selected by both The Economist and the U.K.'s Guardian as a Best Book of 2003. Her second book, Day of Empire: How Hyperpowers Rise to Global Dominance - and Why They Fall was a critically acclaimed Foreign Affairs bestseller. Her 2011 memoir Battle Hymn of the Tiger Mother was a runaway international bestseller and has been translated into 30 languages. In 2011 Amy Chua was named one of Time magazine's 100 most influential people. Maurice Berger is Research Professor and Chief Curator at the Center for Art, Design and Visual Culture, University of Maryland Baltimore County and Consulting Curator of The Jewish Museum in New York. Berger's essay series, Race Stories, "a continuing exploration of the relationship of race to photographic portrayals of race," appears bi- monthly on the ''Lens Blog'' of the New York Times. He is the author of the critically acclaimed White Lies: Race and the Myths of Whiteness (1999) and, most recently, For All the World to See: Visual Culture and the Struggle for Civil Rights (2010). Berger's articles have appeared in many journals and newspapers, including Artforum, Art in America, The Village Voice, October, Wired, and The Los Angeles Times. He is the recipient of awards and honors from the International Association of Art Critics, Association of Art Museum Curators, W.E.B. Du Bois Institute of Harvard University, American Library Association, and the National Academy of Television Arts and Sciences.