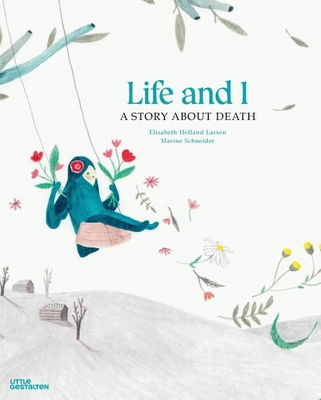 Life and I
A Story About Death
Hardcover

* Individual store prices may vary.
Description
This sensitively-told story for readers of all ages illustrates the inseparability of life and death.

Rosy-cheeked and wrapped in blue, with a flower in her hair, Death rides a pink bike. Death, a greeneyed little girl in this pastel world, visits small animals with soft fur and big animals with sharp teeth. She lingers with a kindly grandmother as they knit one last scarf together. She wanders through surroundings of gentle beauty and she tells us who she is.

For parents of children facing the loss of a family member, a friend, or a pet, this book finds words to express what is often so difficult to explain. It ends with such a feeling of uplift and acceptance that readers of any age will turn the last page with a smile and a tear.

Author Elisabeth Helland Larsen and illustrator Marine Schneider weave a tapestry out of direct, poetic words and handdrawn pictures to give voice to emotions that are moving, real, and most of all, honest.
Praise For Life and I: A Story About Death…
"Elizabeth Helland Larsen's "Life and I: A Story About Death" is a creatively written book that can help children with a death experience... Each beautifully illustrated page addresses a question that a child might ask when a death occurs... Illustrator Marine Schneider's pastel drawings give each page a beautiful presentation for the words telling the story of death's journey through life. The pastel illustrations engage the reader with details that can spark conversations and children's questions."
Examiner.com, May 9, 2016
"It is a lyrical, comforting story that shows how life and death both reside in the individual."

—Gathering Books
"...Larsen makes sense of the inevitable: "If I were to disappear, who would make way for all yet to be born," Death wonders. (Rosie Hedger's seamless translation from the Norwegian is a tour de force.)"

-Literary Features Syndicate
"If it is possible for a book to be both lovely and haunting, this is the one. The prose is quiet, matter-of-fact, and wistful enough to bring a hush to the reader's inner soul. But it is also comforting and reassuring as it explains the process of death and how those who take that lonely walk are never alone because Death is right there with them. Perhaps the most hopeful part of the book is when Death explains that 'Life and I live together in every body.' . . . Illustrator Marine Schneider's skill and sensitivity shine in this book. . . when the time comes that death must be discussed with your little one, introducing this lovely book is probably the very best way to begin."


—Rita Lorraine, Picturebookdepot.com, April 28, 2016
Little Gestalten, 9783899557718, 48pp.
Publication Date: May 6, 2016