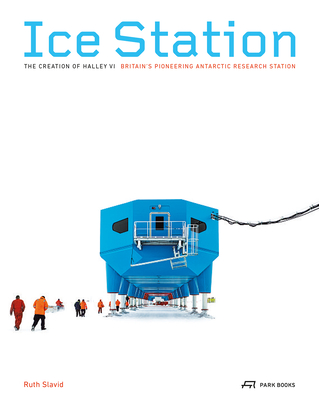 Ice Station (Paperback)
The Creation of Halley VI. Britain's Pioneering Antarctic Research Station
Park Books, 9783906027661, 96pp.
Publication Date: September 15, 2015
* Individual store prices may vary.
Description
For more than fifty years, Halley Research Station—located on the Brunt Ice Shelf in Antarctica's Weddell Sea—has collected a continuous stream of meteorological and atmospheric data critical to our understanding of polar atmospheric chemistry, rising sea levels, and the depletion of the ozone layer.  Since the station's establishment in 1956, there have been six Halley stations, each designed to withstand the difficult climatic conditions. The first four stations were crushed by snow. The fifth featured a steel platform, allowing it to rise above snow cover, but it, too, had to be abandoned when it moved too far from the mainland, making its habitation precarious.

Completed in 2012, Halley VI is the winning design from an international competition organized by the Royal Institute of British Architects (RIBA). It is the world's first fully relocatable research station, comprising eight modules fitted with hydraulic legs and skis. This book tells the extraordinary story of this iconic piece of architecture's design and creation and the challenge of building in an extreme environment, illustrated with drawings, sketches, and previously unpublished photographs.
Praise For Ice Station: The Creation of Halley VI. Britain's Pioneering Antarctic Research Station…
"The next best thing to getting a personal tour of the station, designed to be an especially welcoming home in a place where the snow never melts."
— Boston Globe
"When your first five research stations get pummeled by the harsh polar environment, build one you can move. . . . Halley VI sits above the snow cover to avoid getting buried, but this version can also move toward the mainland as the shelf sloughs towards the sea. . . . The making of Halley VI is documented in Ice Station, . . . with photographs by James Morris."
— Air & Space, Smithsonian
"Antarctica is on Earth, but it feels alien—a vast, cold, rapidly melting desert populated by scientists and emperor penguins. So it makes sense that today's Antarctic research stations look a lot like spaceships: They're often the only things protecting their inhabitants from inhospitable places people really shouldn't be living in. Only recently, though, they've become works of fine art, and Ice Station helps drive that point home."
— Wired
"Ice Station offers an inside glimpse at a place few will ever see."
— Discover
"The British Antarctic Survey launched a research station now setting a new standard for architecture in extreme environments: Halley VI. . . . Ice Station chronicles the design and construction of the science outpost. . . . Morris's photographs, diagrams, and sketches give a full view of all the modular station's components, from cockpit roof lights where residents can view the auroral lights in the winter, to the social module with its bar lounge (likely an equally essential winter feature)."
— Hyperallergic
"Halley VI is the first movable research station, built out of eight independent but linked modules containing dormitories, generators and labs. . . . Few people will ever visit, so Ice Station tells its story."
— New Scientist
"In one of the most inhospitable places on earth, the British have built not just a shelter, but a piece of architecture."
 
— Architects' Journal
"A fascinating insight into design for extreme environments, with a history of the polar mission together with Broughton's further adventures in building for sub-zero science."
— Wallpaper
"Ice Station chronicles the creation of Halley VI, the sixth British research station built on the Brunt Ice Shelf in Antarctica since 1956…. To capture the site, photographer James Morris spent hours outside in temperatures that sometimes dropped to -25 degrees. 'Going to the point where you are alone in the middle of absolutely nothing was quite exciting, in a terrifying kind of way,' he says." 
— Alexandra Wolfe
or
Not Currently Available for Direct Purchase