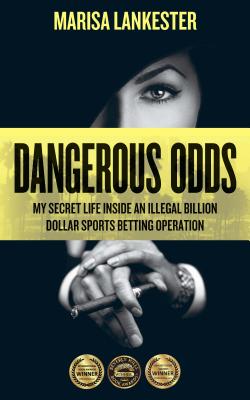 Dangerous Odds (Paperback)
My Secret Life Inside an Illegal Billion Dollar Sports Betting Operation
Cappuccino Books Publishing, 9783906196046, 400pp.
Publication Date: August 1, 2016
Other Editions of This Title:
Hardcover (5/21/2014)
* Individual store prices may vary.
Description
Soon to be a WARNER BROS. movie starring MARGOT ROBBIE (Wolf of Wall Street, Focus), produced by Film 360 (Game of Thrones).
DANGEROUS ODDS - a True Crime Thriller Memoire -  is the explosive, never been told, behind the scenes look into the world of illegal sports betting, revealed by an insider, who happens to be a woman.  Marisa Lankester, a young beauty with a privileged New York upbringing, stumbles into the backdoor of the largest illegal sports betting organization in the U.S., run by Ron The Cigar Sacco.  Marisa, a thrill seeker, maneuvers herself into this mob run men only bookmaking operation and with her looks and brains, becomes a trusted insider.   Along the way, Marisa falls in love with Sacco's business partner, charismatic Tony. In an attempt to evade the wrath of the FBI, Marisa and Tony relocate Sacco's operation from Los Angeles first to Las Vegas and then to the Dominican Republic where gambling is legal.  What begins as a fun and exciting ride on the Caribbean island, where the tall, blond beauty also becomes a top model, morphs into a twisted nightmare. It is also the romantic tale of a beautiful, smart young woman whose love for a charismatic and handsome Italian-American leads her down the road into crime, incarceration and rape.  
DANGEROUS ODDS is the ultimate mistery thriller and suspense page-turner that draws the reader into what is the adrenaline pumped and genius world of sports gambling and betting. 
About the Author
Award winning author Marisa Lankester was born in Rome, Italy. She moved to New York with her family when her father accepted a position with the United Nations. After attending university in Manhattan and Vancouver, Marisa headed to Los Angeles and went to work for notorious bookmaker, Ron 'The Cigar' Sacco. She later relocated to the Dominican Republic where she helped establish the worlds first offshore gambling operation. Marisa has resided in five countries and currently lives in Switzerland. Her novel will soon be a WARNER BROS. movie starring MARGOT ROBBIE (Wolf of Wall Street, Focus) produced by Film 360 (Game of Thrones)
Praise For Dangerous Odds: My Secret Life Inside an Illegal Billion Dollar Sports Betting Operation…
"Marisa Lankester's unique chronicle of high crimes and low company is as wild a ride as any reader is likely to be taken on. She was the lone woman in the eye of a predatory hurricane that blew across continents and devastated countless lives. That she survived is testament to her brains and bravery. The old-timers who invented violence as a second language contended that nothing is deadlier than the female, to cross her was to buck dangerous odds, and this book tells you why." — Barry Gifford, Author of Wild at Heart, Winner Palme D'Or at Cannes Film Festival
"Truth is always wilder than fiction. Hold on to your hats and enjoy this page turning look inside the world of sports betting from a good girl gone bad for love." — Laura Atchison
"Racing is about being on the edge and that is what I experienced throughout the pages of Dangerous Odds. A must read!" — Juan Pablo Montoya, Formula 1, and NASCAR Race Car Driver
"Marisa Lankester tells about the harrowing journey that saw her play a key role in the creation of the first offshore gambling empire." — Sherryl Connelly, New York Daily News
"This is a rollicking good thriller. Non-stop action. We rated it 5 hearts." — Bob Spears, Heartland Reviews
"It's unlikely you'll find a book about sports betting that tells the story as insightfully and from as fascinating a vantage point as this one." — David Pitt, Booklist
"This thriller-like memoir describes bookmaking for an illegal international sports-betting operation. Canadian Lankester, who has been a bookmaker and a model, fell into bookmaking after arriving in Los Angeles to train for a long-distance driving competition. When the police shut down Lankester and her boyfriend/boss's bookmaking operation, the couple moved to his hometown to start over. They married and had a baby, but owing to continued trouble with the law, moved to the Dominican Republic to set up an offshore office and started taking bets anew. Lankester's experience on the island was tumultuous--she spent time in prison, was raped repeatedly by a corrupt official, evaded the FBI, divorced and reconciled, nursed her ex-husband after a near-fatal accident, and became a popular model.
VERDICT: This memoir reads like a mystery and keeps readers on the edge of their seats--at one point Lankester must figure out who the mole is inside their organization--and will be popular with fans of true crime and adventure thrillers." — Karen Sandlin Silverman, Library Journal