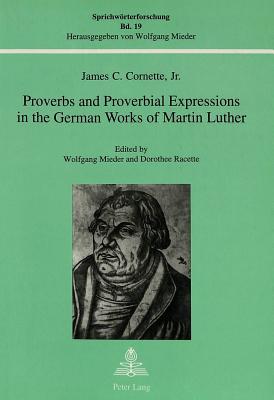 Proverbs and Proverbial Expressions in the German Works of Martin Luther (Hardcover)
Edited by Wolfgang Mieder and Dorothee Racette (Sprichworterforschung #19)
Peter Lang Gmbh, Internationaler Verlag Der W, 9783906757483, 236pp.
Publication Date: June 1, 1997
* Individual store prices may vary.
Description
The publication of a doctoral dissertation over fifty years after its original submission is an uncommon occurrence. That is the case, however, with the hitherto unpublished Ph.D. thesis "Proverbs and Proverbial Expressions in the German Works of Martin Luther" (1942) of James Clarke Cornette, Jr. He wrote his dissertation in the Department of Germanic Languages at the University of North Carolina at Chapel Hill during the early years of the Second World War under the mentorship of Professor Richard Jente (1888-1952). Clearly unintimidated by dozens of large volumes of Martin Luther's writings, Cornette set out to locate and annotate the reformer's proverbial language. When all was said and done, he had registered 4,987 proverbs, proverbial expressions, proverbial comparisons, and wellerisms in Luther's works, a literal gold mine for anybody interested in the history of proverbial speech in general and that of the sixteenth century in particular. Surely the time is ripe for this invaluable resource to be made available to students and scholars throughout the world.
About the Author
The Author: James Clarke Cornette, Jr. (1918-1991) received his Ph.D. degree from the University of North Carolina at Chapel Hill in 1942. From 1942 to 1943 he was an instructor of German at his alma mater. During the summer of 1944, he qualified for School Administrator, studying in the graduate department of education while serving as instructor of Spanish at Appalachian State University in Boone, North Carolina. From 1944 to 1946 he taught French, German, and Spanish at Emory-at-Oxford, Georgia. He then began his long and dedicated tenure (1946-1979) at Austin College in Sherman, Texas, where he taught at various times German, French, and Spanish and served as chairperson of the Department of Modern Languages. As full Professor of German he taught and mentored hundreds of students during his long teaching career.
or
Not Currently Available for Direct Purchase